airbrushmain.html/airbrushpaint.html
GOLDEN Airbrush Colors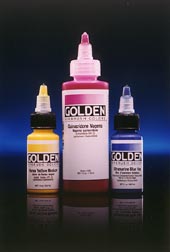 The GOLDEN line of Airbrush Colors are engineered to meet the highest standards of professionals, for use in airbrush, brush and technical pen. They offer the ability to create opaque, high intensity colors for illustration and fine art purposes.
GOLDEN Airbrush Colors are formulated from a 100% water-based acrylic emulsion, incorporating only the most lightfast pigments available. This results in exceptional permanency and performance. The acrylic binder system allows for excellent chemical resistance, yielding a durable film that will not be damaged by water or ammonia.
Key Properties:
Viscosity - ready to use, no dilution required
Permanency - only the most lightfast, durable pigments used
Color Saturation - rich, intense colors, allows the artist more control
Minimal clogging/tip-buildup - results in more time painting and less time cleaning
Non-removable film - durable, non-water soluble, non-alkaline soluble
Compatibility with other GOLDEN Acrylic products (Fluids, Heavy Body, Matte, High Loads)
GOLDEN Airbrush Titanium White is formulated to maximize opacity and maintain spray quality and film integrity. This results in the most opaque white imaginable. The other colors are formulated to achieve maximum color strength. This leads to a color line with varying levels of opacity which is a result of the nature of the individual pigment(s), with certain pigments inherently more opaque than others. GOLDEN Airbrush Transparent Extender can be added to the Airbrush colors to yield more transparent colors without jeopardizing the film integrity and permanency. In fact, lowering the pgment load by adding the Extender will actually increase the film's durability and frisket performance.
GOLDEN also produces other full lines of acrylic paints, including Heavy Body, and Fluid Acrylics, that are compatible with the Airbrush Colors. These products can be used in conjunction with the Airbrush Colors to combine the effects of spraying with those of other application techniques, while working with the same color. When mixed with GOLDEN Airbrush Medium, the Fluid Acrylics perform very well for airbrushing, offering the artist still further choices in color selection.
Please note that Golden Opaque Airbrush Colors are not for use on garments. For Applying GOLDEN Acrylics to Fabric, GOLDEN Fluid Acrylics blended with GOLDEN Airbrush Medium yields a paint system that is very durable in normal laundering, and that does not require heat-setting (however, ironing will increase performance).
Golden airbrush colors are a favorite with our customers for their opacity and non-clogging qualities, especially at 30% OFF!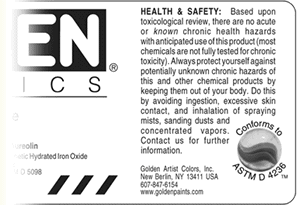 GOLDEN has long been in the forefront of environmental stewardship in the art supplies industry. All of their formulations are geared toward environmental friendliness. This includes everything from the ingredients that go in their paints to the wastewater they generate making their paints as well as cleaning out equipment. They have recieved an Environmental Investment Program Incentive from Empire State Development (ESD). The Empire State Development's Incentive Proposal will help GOLDEN proceed with its proposed water-recycling initiative to install a Reverse Osmosis System, which will allow GOLDEN to reuse its wash water in their Columbus, New York facility. And since their products are produced here in the USA, less energy is used in transport.
All of the colors in this line conform to ASTM D 4236.
| | |
| --- | --- |
| | Not sure which airbrush to use with which paint? Click here. |
Please note: The colors below are electronic approximations of the actual colors and may not match exactly. Please use for reference only.
Green art supply product
Drop Ship - Item is shipped from manufacturer
Oversized - Additional shipping may apply
Item Ships via Truck - Additional shipping will apply
*Free Shipping Offer valid for single package non-oversized shipments over $100.00 (after all applicable coupons have been applied) and under 20 lbs. within the 48 contiguous United States only. All other areas must pay shipping and handling charges. Exclusions apply. Orders for stretcher bars, cradled wood panels, stretched canvas, flammable items, closeout or discontinued merchandise cannot qualify for our free shipping promotion. We reserve the right to ship via the carrier of our choice.

Copyright © 1997 - 2023 by Rex Art Co. All rights reserved. Prices shown are in U.S. Dollars. Prices are subject to change.