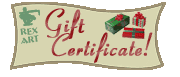 Redeeming a Gift Certificate
Ordering a Gift Certificate
---
Redeeming a Gift Certificate
You may redeem your gift certificate in the following manner:

Shop online until your heart's content. When you have added everything you want to the cart, click on 'view your cart' and enter your gift certificate number and pin provided by Rex Art in the 'Order Options' section of your cart.
Any unused portion of the gift certificate will remain as a credit in your gift account. Just reuse your gift certificate number and pin, and the credit amount will be deducted from your order total. Any amount ordered above and beyond the amount of the gift certificate can be paid via credit card, check or money order.
Ordering a Gift Certificate
There's no better gift for an artist than the much treasured gift of art supplies. And there's no easier way to give art supplies than with a Rex Art Gift Certificate.
There are two ways to send a gift certificate - by email or by mail. Simply fill in the amount you wish to give, and choose the method with which you would like to send your gift. If you choose to send the gift certificate via email, enter the recipient's email address. If you would like to send your gift certificate via the mail, you can enter the recipient's address when you check out. Enter the name of the recipient and the name of the giver, along with an optional message up to 100 characters long. Click on the 'add to cart' button and the gift certificate will be added to your shopping cart.
When your order is processed, the recipient will receive the gift certificate, along with instructions on how to redeem it. To send a gift certificate click here.
---