airbrushmain.html
Rex Art Airbrush Kit
The Rex Art Airbrush Video Kit
Your imagination will supply the magic.
Our kit supplies the means.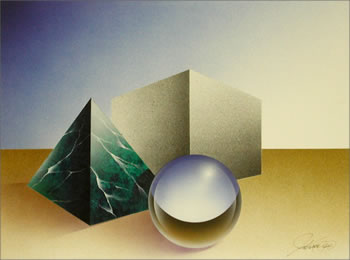 Your first airbrushed image
We have all seen the incredible results achieved by airbrush every day of our lives, from the special effects in our favorite movies to that gorgeous model smiling at us from the pages of our favorite magazines. The airbrush casts an unparalleled spell of glamour and sheer artistic appeal. Its applications are not limited to illustration and graphics. Airbrushes are commonly used to paint minatures, murals, customized cars, cakes, fashion garments, tee-shirts, fingernails, linens, furniture, and ceramics. The variety of airbrush applications is virtually endless.
Perhaps you have dreamed of creating just such exciting projects but have felt that the ability to produce these wonderful designs and vivid colors is limited to the professional artist. The Rex Art Airbrush Video Kit puts these projects within your grasp.
Rex Art's Airbrush Video Kit is a revolutionary new product that will teach you how to airbrush in a very short time. It includes everything you need to create exciting airbrush art. The kit includes a one hour video featuring Jose Varese, a highly skilled, and talented airbrush artist, who has taught countless people how to airbrush. Jose will take you step by step through the completion of your first illustration.
Don't give up the dream because you think you can't draw! - The first illustration is laid out for you. All you have to do is watch the video and develop your technique. You will be working along with Jose as he does the exact same illustration.
We are so sure you will enjoy your kit that it comes with a 30 Day Money Back Guarantee!
Green art supply product
Drop Ship - Item is shipped from manufacturer
Oversized - Additional shipping may apply
Item Ships via Truck - Additional shipping will apply
*Free Shipping Offer valid for single package non-oversized shipments over $100.00 (after all applicable coupons have been applied) and under 20 lbs. within the 48 contiguous United States only. All other areas must pay shipping and handling charges. Exclusions apply. Orders for stretcher bars, cradled wood panels, stretched canvas, flammable items, closeout or discontinued merchandise cannot qualify for our free shipping promotion. We reserve the right to ship via the carrier of our choice.

Copyright © 1997 - 2023 by Rex Art Co. All rights reserved. Prices shown are in U.S. Dollars. Prices are subject to change.