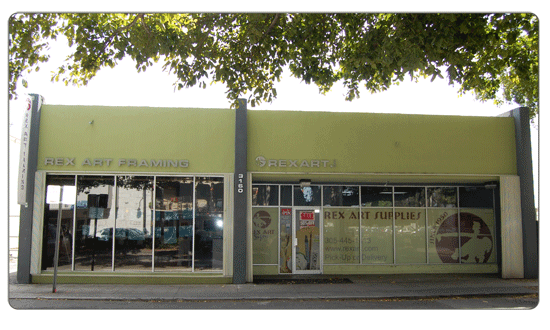 Want to know what is going on at Rex Art?
Visit our blog for recent news, promotions and product spotlights.
Welcome to Rex Art's web site. It is our pleasure to provide the creative community with a fantastic selection of arts, crafts, graphics, books and framing supplies, as we have done now for over sixty years.
Miami, Florida is home to RexArt.com the original on-line art supplier since 1995 and South Florida's oldest art supply super store. Our fourth generation family owned and operated business offers customers 21st century convenience and technology, along with old fashioned, knowledgeable, fast, and friendly personal service.
Founded in 1950, Rex Art has long been a pioneer in the art supplies community. In 1995 Rex Art launched the first online art supply store offering artists from all over the world access to a fantastic selection of quality brand name art supplies at discount prices. Today, our family owned company's mission is to continue to offer our customers the most convenient and secure means of purchasing brand name art supplies at an excellent value, while providing superior product information and individual support – just as if they were shopping in our store.
Lucy's Story

This is Lucy. She showed up at Rex Art's back door on January 3, 2008. We offered her a cookie, baked by Judith in the purchasing department and we instantly gained a friend. She had no collar and no microchip and although we looked very hard, we could find no sign of her owners. So we adopted her. It took less than a week for us to fall in love with her. She comes to work with us every day and has quickly become an integral part of our family at home. So if you happen to hear a dog bark or a toy squeak, that's Lucy helping out at Rex Art.

It is with great sadness and a very heavy heart that we announce that Lucy passed peacefully in our arms on November 13, 2018. We had a very special 11 plus years with her. Rex Art will never be the same without her, but we are all better people for having been lucky enough to be with her for almost 12 years. So many of our customers asked about her on a regular basis, and it was also wonderful to share her life with all of you.
- Katrina and Lonny Morris
If you would like to reach us by phone please dial 1-800-REX-ART2. We are available Monday through Friday, 9:00AM through 6:00pm EST. Otherwise, our web site offers fully interactive, secure ordering features, detailed product information, and is available 24 hours a day, 7 days a week. We would love to hear from you if you have a question or would like to make any comments or suggestions. You are very important to us.
The product selection on rexart.com is based on the most popular products sold in each medium. Though extensive, our website represents only a selection of the vast array of products available. We continue to endeavor to expand the product selection to meet the ever changing needs of 21st century artists. If you are searching for a product or manufacturer that is not currently listed in our shop, please e-mail us for the requested item, and we will try to locate it, or order it from the manufacturer.
As a leader in online art supply sales, we feature one of the most streamlined and secure on-line stores. Katrina Morris, Executive Director of Technology, says, "When we designed rexart.com we wanted our customers to be able to shop as if they were browsing through digital aisles – laid out in a way an artist thinks, rather than the standard directory structure."
When you shop with Rex Art on-line, you can order with confidence. Our site is equipped with secure transaction protocols, which safeguard all of your personal data. Also, any information received from you is never lent or sold to any other source, and its use is restricted to Rex Art only! For more detailed information about privacy at Rex Art, please see our privacy statement.
When you place an order via our web site or phone it is handled with the utmost attention. As soon as we receive your order, or request for information, one of our trained associates begins to gather the materials or information you need. We strive to ship your order within 24 business hours from the time we receive it. If for some reason we are out of stock on a product you requested, we will promptly contact you. We will attempt to offer you a comparable product, if one is available, or take a special order for the item and ship as soon as it arrives - with FREE shipping! *
At Rex Art we know that your time is valuable, and we want to be your creative supplier. Therefore, we will do what it takes to make you happy!
Service, knowledge, price, family pride, and convenience are the secrets to our longevity and success. Though we have grown tremendously we have never abandoned these core values, and in turn, we are one of the most successful on-line art suppliers. Our commitment is to ensure that you are provided the best service at fantastic prices with a personal touch. Every Rex customer has unique needs and we endeavor to ensure they are met.

We look forward to serving your creative needs!
Lonny Morris and The Rex Art Family

* Backorders must total over $25.00 to qualify for free shipping. Some restrictions may apply.
---
Green art supply product
Drop Ship - Item is shipped from manufacturer
Oversized - Additional shipping may apply
Item Ships via Truck - Additional shipping will apply
*Free Shipping Offer valid for single package non-oversized shipments over $100.00 (after all applicable coupons have been applied) and under 20 lbs. within the 48 contiguous United States only. All other areas must pay shipping and handling charges. Exclusions apply. Orders for stretcher bars, cradled wood panels, stretched canvas, flammable items, closeout or discontinued merchandise cannot qualify for our free shipping promotion. We reserve the right to ship via the carrier of our choice.

Copyright © 1997 - 2023 by Rex Art Co. All rights reserved. Prices shown are in U.S. Dollars. Prices are subject to change.