acrylicmain.html/acrylicpaints.html
GOLDEN Artist Heavy Body Acrylic Colors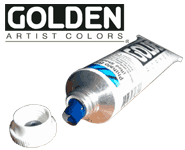 Golden Heavy Body Acrylic paints contain pure pigments in a 100% acrylic emulsion vehicle. No fillers, extender, or opacifiers are used and no toners or dyes included.
Each color in the Heavy Body line has its own specific level of gloss. Colors that tolerate higher pigment loads dry to a more opaque, matte finish. Those more reactive to large loading appear more transparent and glossy.
Please note: The colors below are electronic approximations of the actual colors and may not match exactly. Please use for reference only.
Please note that there are certain colors and sizes from Golden that we do not stock, but can be special ordered. There is no additional charge for this service. The time frame is generally 2-3 weeks to acquire special orders. If you are looking for a color or size you need please contact us for more information.