acrylicmain.html/acrylicpaints.html
GOLDEN Fluid Acrylics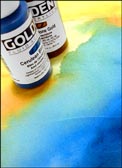 Golden Fluid Acrylics are highly intense, permanent acrylic colors with a consistency similar to heavy cream. Produced from lightfast pigments, not dyes, they offer very strong colors with very thin consistencies. No fillers or extenders are added and the pigment load is comparable to Golden Heavy Body Acrylics.
Unlike mixtures of heavy-bodied paints and water which produce weak color and films by dilution, Golden Fluid Acrylics contain high pigment levels suspended in an acrylic polymer vehicle. The result offers fine dispersion, high tinting strength, durability, flexibility and good adhesion. Fluid Acrylics are ideal for spraying, brushing, staining, and can be mixed with other GOLDEN Products. Blend with GOLDEN Airbrush Medium for spray application. Excellent for fabric application.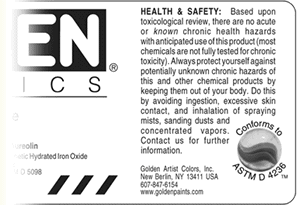 GOLDEN has long been in the forefront of environmental stewardship in the art supplies industry. All of their formulations are geared toward environmental friendliness. This includes everything from the ingredients that go in their paints to the wastewater they generate making their paints as well as cleaning out equipment. They have recieved an Environmental Investment Program Incentive from Empire State Development (ESD). The Empire State Development's Incentive Proposal will help GOLDEN proceed with its proposed water-recycling initiative to install a Reverse Osmosis System, which will allow GOLDEN to reuse its wash water in their Columbus, New York facility. And since their products are produced here in the USA, less energy is used in transport.
All of the colors in this line conform to ASTM D 4236.
The colors below show the masstone on top and a 10:1 Titanium White/Color blend or a 5:1 Bone Black/Color blend (Whites only). Please note: The colors below are electronic approximations of the actual colors and may not match exactly. Please use for reference only.
Please note that there are certain colors and sizes from Golden that we do not stock, but can be special ordered. There is no additional charge for this service. The time frame is generally 2-3 weeks to acquire special orders. If you are looking for a color or size you need please contact us for more information.
Green art supply product
Drop Ship - Item is shipped from manufacturer
Oversized - Additional shipping may apply
Item Ships via Truck - Additional shipping will apply
*Free Shipping Offer valid for single package non-oversized shipments over $100.00 (after all applicable coupons have been applied) and under 20 lbs. within the 48 contiguous United States only. All other areas must pay shipping and handling charges. Exclusions apply. Orders for stretcher bars, cradled wood panels, stretched canvas, flammable items, closeout or discontinued merchandise cannot qualify for our free shipping promotion. We reserve the right to ship via the carrier of our choice.

Copyright © 1997 - 2023 by Rex Art Co. All rights reserved. Prices shown are in U.S. Dollars. Prices are subject to change.