Liquitex Specialty Paint
LIQUITEX INTERFERENCE COLORS
Definition
Liquitex Interference Colors are colorless, transparent colors made from titanium coated mica flakes rather than traditional pigments. The are also known as "Opalescent Colors".
They change their color (exhibiting a metallic look and color shift) depending upon the viewing angle. As the light hits the mica flakes it either bounces off directly, reflecting the labeled color or passes through to another layer and bounces out at a different refractive index displaying the complimentary color. The effect is visually similar to a thin coat of oil floating on water.
Application
Use in any technique or surface suitable for any acrylic paint or medium.
Apply straight from container, thinned with water or mixed with any Liquitex Acrylic Color, Iridescent Color, or Gel Medium to produce an endless variety of colors and effects.
Apply thin layers rather than one thick one.
Thin applications in a wash or glaze increase the visual interference effects.
To achieve a visually opaque coat, apply a base color that matches the "flip" or complement of the interference color, before applying the interference color. (i.e. Napthol Crimson underneath Interference Green).
To increase interference color effect, add 1% Mars Black to interference color.
To create iridescent grays, add 2-5% Mars Black to interference color.
Applied over white surfaces or light colors, they are translucent.
Applied over black or dark surfaces they are seen as brilliant pastel colors.
Applied on transparent and translucent surfaces they create unusual visual effects.
Mixed with Liquitex Mediums to create luminescent fluid glazes.
LIQUITEX INTERFERENCE GLAZE MIXING GUIDE
Thick Interference Glaze
85-90% Gel Medium or Heavy Gel Medium
10-15% Interference Color
Fluid Interference Glaze
85-90% Gloss Medium & Varnish
10-15% Interference Color
1% Liquitex Medium Viscosity Concentrated Artist Color*
* = Use a transparent color.
Definition
Iridescent Paints are also known as "metallic " paints that do not tarnish. They mimic the effect of bronzing powders. Bronzing powders can not be used with acrylic emulsions as they tarnish due to the alkalinity of the binder.
Characteristics
Liquitex Iridescent Colors produce a variety of non-tarnishing iridescent or metallic effects.
Made from titanium coated mica flakes with an outer layer of a transparent light absorbing colorant, rather than traditional pigments.
Light Absorbing colorant layers determine the observed color.
Iridescent pigments are "optically opaque" and they rely on reflected light only for their effect. No interference "flip" color is observed.
Application
They can be used alone or mixed with other Liquitex Colors and Mediums for a variety of iridescent, metallic effects.
Avoid mixing with opaque colors.
Mix with small amounts of Liquitex Acrylic Colors for variety of "metallic" colors, i.e. copper with green = antique copper.
Mix with Liquitex Medium Viscosity Mediums for "metallic" glazes.
Mix with Liquitex Texture Gel Mediums for "metallic" textures.
I ridescent White is added to other color to attain peariescent qualities.
FLUORESCENT COLORS
Definition
Liquitex Fluorescent Acrylics Colors are intense, brilliant colors, produced from dyes surrounded by a polymer coating. The dyes absorb invisible ultraviolet light and emit visible light of a longer wavelength, reflecting more light than they receive. As a result, they fluoresce or glow and will visibly overpower paints made from traditional pigments.
Characteristics
The fluorescent effect, as well as the color, fades rather rapidly as the dyes are not stable; these colors are rated Lightfastness III and should not be used for work that is meant to be permanent.
Application
Fluorescent colors are translucent and greater intensity can be achieved by working over a bright white surface.
If a greater permanency is desired, a topcoat of Liquitex Soluvar Gloss Varnish or Soluvar Matte Varnish (which contain Ultra Violet Light Stabilizers) is recommended, although it will eliminate the fluorescent "glow" under black light.
LIQUIGEMS ACRYLIC GLITTER PAINT
Definition
A high viscosity 100% acrylic polymer emulsion paint that contains a heavy concentration of mica flakes.
Characteristics
Glitter colors dry to a thick, three-dimensional consistency.
Application
Brush on or use with applicator tip for dimensional line work.
Not recommended for airbrush or marbling techniques.
Not recommended for permanent work.
GLOSSIES ACRYLIC ENAMEL PAINT
Definition
Liquitexg Glossies are water based acrylic enamels that are specially formulated to adhere to slick, non porous materials such as: glass, tiles, glazed ceramics, stoneware, china, enamelware, primed metal, wood and other non-oily surfaces.
Characteristics
Air-dried colors dry to a durable, high gloss finish. Heat-set colors dry to a scratch resistant, high gloss finish.
All colors are lightfast. Suitable for indoor and outdoor applications (when heat set).
All GlossieS colors are intermixable and can be easily blended to achieve any color.
Non-Toxic and contain no solvents. Clean up with soap and water.
For additional information refer to: Part 2 Applications & Techniques: Surface Preparation Applications & Techniques: Glass, Tile & Ceramics - Application / Painting Techniques and Heat Setting Sections
Use and Care
Hand wash in warm water with mild dishwashing detergent.
Heat set Glossies- will soften when soaked in hot water or exposed to heat and return to proper hardness upon cooling. Allow heat set Glossies to cool prior to rubbing, cleaning or wetting surface.
Do not place extremely hot pans, etc. on baked Glossies.
Not recommended for shower stall tile installation. Repeated exposure to hot water will adversely affect adhesion.
Not recommended for "heavy use" applications, such as kitchen countertops, floors, etc.
Do not clean Glossies (heat set or air-dried) with scouring cleaners, as they will abrade surface.
Care should be taken if using grout in-between heat set Glossies tiles. Grout is abrasive and can scratch surface. A non-abrasive acrylic tile grout is recommended.
Do not use on flexible surfaces.
Do not use in food contact surface applications.
May be used on outside of mugs, bowls, etc. Do not paint within the top 3/4" (20 mm) of drinking vessel. May be painted on underside of clear glass dishes.
---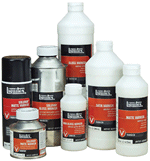 ---
---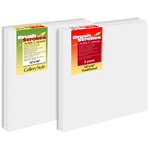 ---