Liquitex Professional Grade Acrylic Paint
Available in two viscosities Medium Viscosity and High Viscosity. Liquitex offers the largest assortment of pure pigments of any professional quality acrylic paint.
Each color is uniquely formulated to bring out the maximum brilliance and clarity of each individual pigment.
All colors are formulated to dry within a tight satin sheen range. This eliminates the problem of colors drying to different surface sheens (i.e. gloss, satin, matte, etc.) depending on pigment type. It enhances the visual clarity of the finished painting and eliminates unwanted glare spots.
Suitable for indoor and outside applications.
Water soluble when wet, dries quickly to a water-resistant surface.
No chemical drying action to prolong painting and varnishing procedure.
Excellent adhesion to most painting surfaces.
Chemically alkaline and therefore compatible with common mural grounds such as concrete, plaster, cement, concrete block or any masonry surface. A Wide range of intense, permanent pigments.
No toxic solvents or cleaners necessary.
Resistant to ultra-violet light.
Allow greater versatility of technique compared to other media.
Highly intense, permanent acrylic colors with a consistency similar to heavy cream, that dry to a smooth, even surface with good leveling, that shows little brush marks.
Allows for thinning easily with water and mixing with mediums.
Pigment load is equal to Professional Grade High Viscosity Artist Colors.
Ideal for flat large area coverage, fine line detail, glazing, underpainting, airbrush, fabric painting, watercolor, murals, silk-screen, calligraphy, printmaking, graphic design, illustration, ceramics, sculpture, photo retouching and hard edge painting.
Liquitex High Viscosity Acrylic Colors are heavy bodied paints that have an exceptionally smooth, thick buttery consistency and oil-like performance.
When dry, they retain brush stokes and palette knife marks.
Flexible when dry, allowing built-up surfaces to remain free of cracks and chips.
Excellent for impasto (thick) painting techniques.
Sheen, consistency and handling characteristics similar to oil paint can be achieved with the use of Liquitex Mediums.
---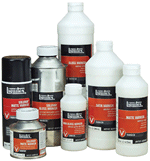 ---
---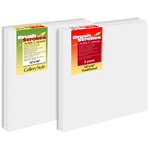 ---