Home » Iwata Eclipse Pistol Grips G5 Airbrush
Unique "Pistol Grip" airbrush-guns, the Eclipse G-Series look like miniature spray guns, but spray and perform like a large airbrush.
The G-Series Airbrush Guns work with most twin-piston airbrush compressors like the Iwata Studio Series Power Jet Compressors.
True center-post gravity-feed airbrush with adjustable air inlet
0.5-mm stainless steel nozzle
Twilight-chrome finish
Works well with the Iwata Studio Series Power Jet and Power Jet Lite Compressors.
Kit Includes:
Iwata Eclipse G5 Pistol-Grip Airbrush-Gun
8oz. Stainless-Steel Cup and Lid
| Paint Reservoir | Nozzle | Trigger Action | Spray Pattern |
| --- | --- | --- | --- |
| 8 oz. (225 ml) Aluminum Steel Cup | 0.5-mm Screw-In Nozzle | Fixed Double-Action | 1/8 in. to 2 1/2 in. (3-mm to 66-mm) Round or Oval or Fan |
Features
Optional Features
Product Name
Item No.

Stainless Steel Paint Passage
Pre-Set Needle Adjustment
Air Pressure Adjustment
Fan Pattern Adjustment
Catridge-Style Air Valve Set
Fan Pattern Air Cap

Reseviors:

4 oz. (100 ml) Stainless Steel Cup

Iwata Eclipse G5
ECL 9200
Eclipse Nozzle/Head Assembly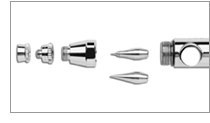 The drop-in hardened steel nozzles are self-centering for perfect alignment and quick, easy assembly. High-paint flow, coupled with ultimate control through the entire spray range, is Iwata's trademark with the Eclipse style of airbrushes. Now, with the new interchangeable 0.35-mm high-flow nozzle/needle combination, even finer detail and control can be achieved. Excludes the Eclipse G6.

Click here to download the Eclipse G5 parts guide in pdf format.

Rex Price:
$555.03
Save 32%!


Join the Rex Art mailing list
Share: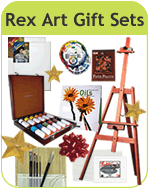 Green art supply product
Drop Ship - Item is shipped from manufacturer
Oversized - Additional shipping may apply
Item Ships via Truck - Additional shipping will apply
*Free Shipping Offer valid for single package non-oversized shipments over $100.00 (after all applicable coupons have been applied) and under 20 lbs. within the 48 contiguous United States only. All other areas must pay shipping and handling charges. Exclusions apply. Orders for stretcher bars, cradled wood panels, stretched canvas, flammable items, closeout or discontinued merchandise cannot qualify for our free shipping promotion. We reserve the right to ship via the carrier of our choice.

Copyright © 1997 - 2023 by Rex Art Co. All rights reserved. Prices shown are in U.S. Dollars. Prices are subject to change.