brushesmain.html/oilacrylicbrushes.html
Loew Cornell Assorted Natural Hair Brushes
Loew Cornell Assorted Natural Hair Brushes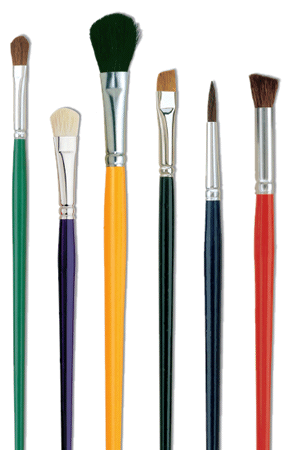 Rex Art presents a showcase of natural hair Loew Cornell brushes in a variety of timeless, popular shapes. The Loew Cornell paint brushes in this collection feature bristles of red sable, camel, ox, golden sable, and more. The exceptional quality bristles ensure a smooth and steady application, and all brushes are available for affordable prices.
Rex Art has been providing quality art supplies for affordable prices to the artistic community for over fifty years, and Loew Cornell has built a worldwide reputation for excellence since their establishment in 1963. When you purchase your Loew Cornell brushes from Rex Art, you will feel comfortable knowing that your brushes come from two trusted industry leaders.
If you need help choosing the best Loew Cornell brushes to suit your specific application, or if you do not see the Loew Cornell paint brushes you want, please do not hesitate to call our friendly and knowledgeable representatives, who will be happy to assist you.
Please note: Unfortunately, we have been informed by Loew Cornell that several of the brushes in this series has been discontinued, and as soon as their stock has been depleted they will no longer be able to fulfill our orders for inventory. We are very sorry for any inconvenience.
We are leaving all sizes on this page, even discontinued ones, to help our customers find replacements with our other brush vendors. If the brush shows as "SOLD OUT" it may be gone for good. This was one of our best selling lines of brushes, and we would never have stopped carrying them unless Loew Cornell forced us to do so. Get them while you can! As an alternative you may want to consider the
Loew Cornell 7000 Series
which are sized to match the 4000 series, and offers a very high quality golden taklon.
Please
contact us
or call us at 800-739-2782 and we would be happy to try to help you find a comparable substitute through one of our many other fantastic brush companies.
Write a review of this product

Overall Rating: 5.00 from 1 reviews.
The pictures below are offered as shape references. They are not actual size.
Green art supply product
Drop Ship - Item is shipped from manufacturer
Oversized - Additional shipping may apply
Item Ships via Truck - Additional shipping will apply
*Free Shipping Offer valid for single package non-oversized shipments over $100.00 (after all applicable coupons have been applied) and under 20 lbs. within the 48 contiguous United States only. All other areas must pay shipping and handling charges. Exclusions apply. Orders for stretcher bars, cradled wood panels, stretched canvas, flammable items, closeout or discontinued merchandise cannot qualify for our free shipping promotion. We reserve the right to ship via the carrier of our choice.

Copyright © 1997 - 2023 by Rex Art Co. All rights reserved. Prices shown are in U.S. Dollars. Prices are subject to change.