pastelsmain.html/softpastels.html/jck_unison_pastels.html
The Unison Story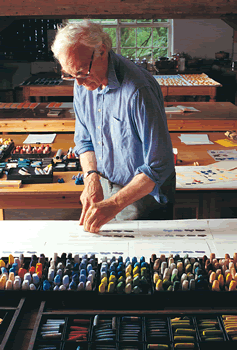 A Rapture of Texture & Colour: Out of a frustration with the pastels available, British artist, John Hersey began making handmade pastels. Developed to be superior in colour, texture and response, Unison Soft Pastels are unlike anything on the market today. John Hersey worked out his unique colour formulations over a decade of experimentation, creating intense, vibrant colours, blended almost exclusively from pure pigment and water.
"As an artist, I was at a point where I needed to work in pastels," Hersey says. "But the pastels I tried seemed to be utterly ridiculous. They had no sense in them -- just infinite numbers of similar tints. Most of them were very thin and wrapped in paper so that if there were any cracks, the paper disguised it." Hersey had been using soft charcoals for years, and loved the texture of the medium and the boldness of the absolute black it offered. His work in black and white gave him a keen awareness of light and shadow. He wanted to translate that awareness to the use of color. But he could not find pastels that suited him in either performance or colour.
Benefits of the Handmade Process: In pastel factories, pigments are mixed with water, gums and other additives in large mechanical mixers. The pastel "dough" is then pushed through the barrel of an extruder by a long revolving screw. The solid dough is forced through a circular opening at the extruder's end. It emerges from the extruder like a long pencil and is cut to stick lengths. It drops onto a conveyer belt to go through a drying operation, then a wrapping operation.
"The problem with extrusion," Hersey says, "is that it squeezes the pastels very tight and compresses them." And they are probably overheated in drying. This makes them hard, on the whole. It alters their consistency. And alters their response to being used.
In our handmade process, the pigment hardly gets pressed at all. The sticks are rolled lightly. It makes them very fluent when you use them. Like soft charcoal.
Creating consistency of response across the colour spectrum was a particularly thorny problem for Hersey. Pigments vary in their physical properties. Many pigments will hold together after being mixed with water, rolled and dried. Others fall to pieces. For those Hersey adds a little weak starch or gum to give the best response without interfering with the colour.
"Many of our colours are pure and single pigments," Hersey says. "On the whole they are blended, three or four or five different pigments together. But we blend in very little white or chalk. Artists are generally looking for intense and dark pastels. You can get sick of the endless arrays of pale pastel shades. You want some really strong colors. And those are just pigment and nothing else."
Colour = Light + Shadow: "Light is the beauty of the world making colour the tangible evidence of creation," Hersey writes. "If the sun is the true light, then in the earth also there is true colour. But unlike the sun, the earth is subject to much coming and going. At one time dawn. At another twilight. At one time Spring. At another Autumn. Although the true sun remains, the colour is forever changing. Its own true nature held between the fingers of the cool sky and the radiant sun."
Hersey brings a poet's sensibility to his work with colour. He has developed his 288 pastels as a series of 16 sets of 18 colours each. The nine central sets follow Hersey's theory of color-integration. This theory is based on his observations of nature, in which he observes that a single colour, from a single light source, can take on almost endless variations. He bases his sets of colour on these variations.
Most manufacturers make up their sets of colours by the simple addition of either black or white to the pigment mix. That practice results, Hersey contends, in isolated series of stepped reductions or tints, having no reference to a coloristic whole. Instead, Hersey takes colours and creates cycles of related hues, to reflect the unison he sees in nature. Thus the name of his company: Unison Colour.
Beyond Theory: "I worked it out so that the cycles work in terms of how your eye sees things," Hersey says. "It's not just theoretic. In nature, one sees centers of intense color and all the variations of that color until it gets so weak or so influenced by something else that it becomes another colour. Stable colour does not exist. It's an illusion of the sun. You look out the window, you'll find that what was a beautiful pale green is now a dark blueish green. Colour in nature is changing all the time. These changes are what I am trying to illustrate in my color sets. Of course it's not complete. If you are going to make pastels to illustrate the entire universe, you're going to make millions of pastels."
Hersey found inspiration in his surroundings. He comes originally from the south of England, which he describes as foggy and misty, with poor light for an artist. The light in Northumberland, where he has come to live, is particular. "It's Roman light up here," he says. "Very brilliant, incandescent and radiant. Like the works of Plussy and Claude. Even if you drive south one hundred and fifty miles from here, all the colours begin to fade. The light has been an enormous influence for me."

---