We at Rex Art, a family owned independent business since 1950, pride ourselves on sharing knowledge and providing a unique personal touch. We strive to ensure that each customer enjoys special treatment, as well as great savings. We are pleased to offer our customers articles from the popular Colorado artist/teacher, Don Foster. He is well qualified to help us continue to deliver top quality services and value to our customers.
Don Foster's informative and inspirational articles, emphasizing creativity and originality are listed below with the most recent first. Please feel free to read through past articles, as his advice is timeless.
Don Foster's easy-to-understand art course teaches and illustrates the necessary skills to achieve artistic success, regardless of subject, medium, training, or level of experience. We also offer a Artists' Workshop CD-ROM Companion Kit of art materials you could use (not required) as you complete this course.

This unique instructional CD-ROM is user friendly. You do not have to be connected to the Internet and there is nothing to install. It does not require hard disk space. It automatically starts when placed in your CD drive and is viewed in your web browser. All you have to do is point and click. It is compatible with either Windows or Macintosh computers.


The good news is that you CAN break the copy-habit! The popular Don Foster Artists' Workshop CD-ROM is the key to artistic control. The seven explicit and detailed lessons are applicable to all subjects and all mediums. The instructional emphasis is upon recognizing creative possibilities and producing original work.
Introduction

Talent – What is it? Do you have any? Find out for sure from the introductory pages, and then the lessons will show you what to do about it.
| | |
| --- | --- |
| | Can't figure out what's wrong with your paintings? One of the first of many things you'll see in the Introduction is an easy-to-understand guide called "The Circle of Confusion." It will enable you to zoom-in on specific problem areas and delete them once and for all, as you move toward more rewarding and easier times at your easel. |
Lesson One

Can't draw a straight line? Learn why that's something to be thankful for! Can't decide what to paint? This lesson will help direct your search. Never sure where to begin? Here's a wonderful opportunity to develop a proven working procedure that will eliminate troublesome, and unavoidably disastrous, guesswork.

Lesson Two
Can't decide what to include or leave out? Don't know where to put what on your picture surface and why? Can't seem to create a main area of interest? Are "bit" players stealing the show? This lesson gets down to the basics of composition and design and clarifies how to add astounding emphasis to your work. The Don Foster oil painting shown below is called "Ledges." It is just one of many oil paintings featured and analyzed on this CD to illustrate the valuable information you'll enjoy in lesson two and all others.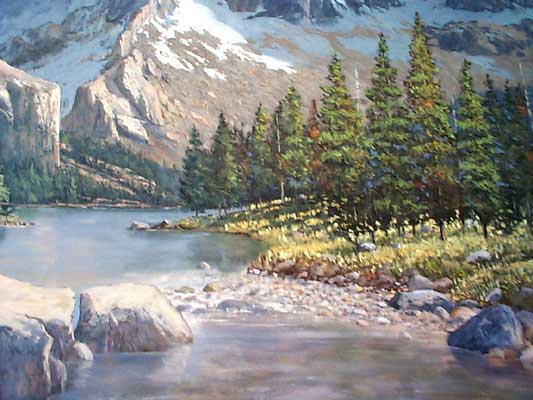 This painting is analyzed from blank canvas to completion in Lesson Five.
Lesson Three

Having problems depicting light and shade?

This lesson may be the most valuable in our series. It will teach you how to accurately describe direct sunlight, form shadows, reflected light, and cast shadows, regardless of the subjects you paint.

Viewers may not know why your work is so much better than others they see, but you will.

There are four obvious areas (or planes) of light outdoors at all times and under all conditions.

The sky

Flat surfaces

Angular surfaces

Uprights (Verticals)

Deviations from these truths of nature may be recognized as "not looking right." Do so if you must, but with extreme care.
Lesson Four

Frustrated by muddy, lifeless color?

Learn what makes colors muddy, dull, and monotonous. Here's a simple way to select and mix color with astonishing brilliance and clarity.

Lesson Four also describes how to create color charts for future reference, enabling you to know exactly which pigments you need to produce a color seen on your chart.
Lesson Five

Do you sometimes wonder how another artist might have done it?

This helpful lesson clarifies step-by-step painting procedures and color recipes.

Lessons Six and Seven
More in-depth finished painting studies and analysis. These lessons provide information you will find useful as you paint from nature or photographs or when you compose scenes from your memory or imagination.
---
And, an exciting opportunity awaits you. You'll be able to review and test yourself as you are learning, through an analysis of over 100 fabulous nature photos taken by your instructor as inspiration and reference for his own paintings.
The CD enlarges and examines each of the 100 spectacular, memorable, once-in-a-lifetime views with you, revealing what Don Foster would choose to depict "just like it is," what he'd change, and most importantly WHY. You will be painting from nature, in the comfort of your own home, as you enjoy step-by-step guidance.
Turning imperfect photos into perfect paintings is the topic of this lesson. Here are samples from the Artists' Workshop CD.
| | |
| --- | --- |
| | The brilliance of the sun reflecting from the upper rock surfaces caused my camera and film to underexpose the shaded sides. That's not the way it appeared to the eye, so this photo is actually an imperfect distortion of reality. |
| | "For my painting I chose to illuminate the shade surfaces with a warm glow of light reflecting from the ground. I also rearranged the foreground to create a path toward the focal point area, which is what I've called "Sandwich Rocks." The tree and its shadow became a secondary interest." - Don Foster |
The La Jolla, California, coves offer a spectacular top view of wave action. Again, the limitations of photography show the rocks much darker than they would have actually been seen.

Photography can provide wonderful reference material, but we should always recognize its shortcomings and never limit ourselves to merely duplicating a photo and its distortions.

Painting is a show and tell process. We show the subject but, more importantly, we tell the viewer the way we saw it, imagined it, or wanted it to be. We call what we do Fine Art because it is, literally, a refining process.

We narrow our visual reporting to what we, personally, found most important, interesting, dramatic, or beautiful.


"I chose to depict brighter sunlight and color in the foreground, adding a more concentrated focal point emphasis. I also brought the mid and distant peninsulas to sharper focus than my camera was able to capture. The shadows cast across the lower right of the rocks were seen in reality, but had vanished when I took the photo above. To me, cast shadows are essential truths of nature. If we have light, we see it in varying degrees and differing types. Actually, they are what we're depicting and when we do that well, the subject matter magically appears." - Don Foster
A special bonus is a screen saver, showing over 30 original oils by your instructor Don Foster.
About the Author:
Artist-Instructor Don Foster was born in Ontario, Canada, and raised in British Columbia. He became a United States resident in 1955 and a citizen in 1965.
While still a student at the School of Art and Design in Laguna Beach, California, he began exhibiting his landscapes and seascapes and presenting lecture-demonstration programs to art associations.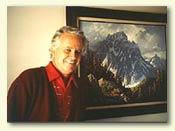 Requests for workshop classes and other teaching opportunities resulted in his obtaining a Life-Long State of California Teaching Credential as an oil painting and watercolor instructor.
He later became a faculty member with Adult Education programs and the California State University, Long Beach. He has organized and taught annual outdoor oil painting classes in Grand Teton and Yosemite National Parks, the Canadian Rockies, and along the coasts of California, Oregon, Washington, and Hawaii.
His prestigious gallery representation has included Zantman's of Carmel; The Jones Gallery, San Diego; the Saddleback Western Art Galleries, Santa Ana; and the Desert Southwest Gallery, Palm Desert, California.
Equally adept with either a painting knife or brushes, he now specializes in scenes of nature, striving to "point the finger of discovery" through impressionistic realism, visually sharing what he has seen or imagined.
Over the past few years he has gained international recognition through a unique and popular approach to art instruction. For more information, visit his web site, www.artistsworkshop.com
Green art supply product
Drop Ship - Item is shipped from manufacturer
Oversized - Additional shipping may apply
Item Ships via Truck - Additional shipping will apply
*Free Shipping Offer valid for single package non-oversized shipments over $100.00 (after all applicable coupons have been applied) and under 20 lbs. within the 48 contiguous United States only. All other areas must pay shipping and handling charges. Exclusions apply. Orders for stretcher bars, cradled wood panels, stretched canvas, flammable items, closeout or discontinued merchandise cannot qualify for our free shipping promotion. We reserve the right to ship via the carrier of our choice.

Copyright © 1997 - 2023 by Rex Art Co. All rights reserved. Prices shown are in U.S. Dollars. Prices are subject to change.