Surface Preparation
LIQUITEX GESSO
Liquitex Gesso is the premium acrylic gesso used to prepare painting surfaces for acrylic and oil paint.
For additional information refer to Part 2 Applications & Techniques: Surface Preparation
Characteristics
Non-yellowing.
Flexible and non-cracking.
Provides the perfect "tooth" and adhesion to a wide variety of supports, such as canvas, paper and wood.
Available in White, Black and colors.
Application
Use undiluted or thin up to 25% with water.
When thinning more than 25% use an equal mixture of water and Liquitex Matte Medium to thin gesso.
Tint color with Liquitex Medium or High Viscosity Artist Colors. Liquitex Color Gesso is hue balanced and intermixable to provide a wide variety of inter-mixed colors.
LIQUITEX WOOD STAINS
Attributes
Stains and seals wood in one step, to a durable, water-resistant finish. Gel-like consistency eliminates running or dripping.
When dry, may be painted with acrylic, alkyd or oil paint.
Non-toxic, lightfast. Cleans up with soap and water.
Do not mix with oils or turpentine.
Directions
Wood Preparation
Before staining any surface, experiment on scrap wood. The softer the wood the deeper the stain penetration. Softwoods (pine) are more difficult to evenly stain than hard woods (oak).
Sand wood surfaces with fine grit sandpaper in the direction of wood grain.
To achieve a more dramatic wood grain stain pattern, wire brush wood in the direction of the grain, prior to staining.
Staining
Squeeze stain on palette first. Do not squeeze directly onto raw wood.
Use a lint free cloth or brush to apply a heavy coat of stain to sanded wood surface.
Wait 30-60 seconds. Wipe off excess with a lint-free cloth.
For best results, apply stain by rubbing in a circular motion until desired color is obtained.
Surface will dry to the touch in 2 hour. Allow to cure 8-12 hours before painting or varnishing.
For covering large areas, work in sections.
For a darker, richer stain, apply one coat. Let dry. Lightly sand and apply a second coat.
For a deeper stain, thin Wood Stain with Liquitex Flow-Aid Flow Water (1 part Flow-Aid Flow Enhancer, 20 parts water).
To slow down drying, thin Wood Stain with 20% Liquitex Slow-Dri Fluid Retarder.
When stain is dry, may be varnished with Liquitex High Gloss or Satin Permanent Varnish.
---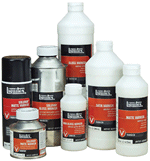 ---
---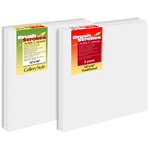 ---