Home » Artool Kustom FX4 Mini Series Template Set
From the mind of Craig Fraser, and the work-release program of the criminally insane at Artool®, they have created the unthinkable: another six stencils with a virtual smorgasbord of unique patterns and goodies to keep even the most attention-deficit kustom painter amused.
With artists becoming more discerning about stencils, here is another batch of Kustom FX to fill in those pesky graphics and mural backgrounds that are just screamin' for more details! These aren't your run of the mill public domain internet designs; these suckers are hand drawn specifically for your own creativity. With FX4, you will be able to start sprayin' designs immediately without having to purchase a $5,000 computer system to help you cut 'em out — it's already done for you!
"Okay, cash in your kid's 529 plan, roll over that 401K and hit up Guido the Loan Shark: 'Cause it's stencil buyin' time!" - Craig Fraser

Rex Price:
$34.79
Save 25%!


Join the Rex Art mailing list
Share: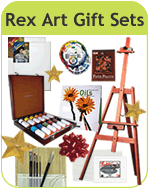 Green art supply product
Drop Ship - Item is shipped from manufacturer
Oversized - Additional shipping may apply
Item Ships via Truck - Additional shipping will apply
*Free Shipping Offer valid for single package non-oversized shipments over $100.00 (after all applicable coupons have been applied) and under 20 lbs. within the 48 contiguous United States only. All other areas must pay shipping and handling charges. Exclusions apply. Orders for stretcher bars, cradled wood panels, stretched canvas, flammable items, closeout or discontinued merchandise cannot qualify for our free shipping promotion. We reserve the right to ship via the carrier of our choice.

Copyright © 1997 - 2023 by Rex Art Co. All rights reserved. Prices shown are in U.S. Dollars. Prices are subject to change.