Home » Artool Draco NANOS by Craig Fraser Templates Set


At the size of a business card, the Artool® Nano Series Freehand® Airbrush Templates can ve used to easily render images on the smallest projects, namely the RC car market, 1/8 - 1/25 scale models, diecast kustoms and kustom automotive applications. When tabs are cut, each Nano measures 2" x 3.5".
Those of you who are true medieval monster fans know exactly what we created when you saw the name Draco™...yep, dragons. Not just one, but 4 of the flame-blowing beasties! Plus we've got a killer Japanese snake-style dragon, as well as a gothic version with flame effects included in each stencil. Two of the stencils are dragon heads with profiles that will fit on the side of your favorite diecast car or slapped on the hood. Of course, Draco can also be used for other small items such as music players, ping-pong balls and small snack items.
Kick Dragon Butt!!!
- Craig Fraser

Rex Price:
$16.75
Save 25%!


Join the Rex Art mailing list
Share: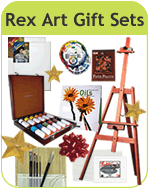 Green art supply product
Drop Ship - Item is shipped from manufacturer
Oversized - Additional shipping may apply
Item Ships via Truck - Additional shipping will apply
*Free Shipping Offer valid for single package non-oversized shipments over $100.00 (after all applicable coupons have been applied) and under 20 lbs. within the 48 contiguous United States only. All other areas must pay shipping and handling charges. Exclusions apply. Orders for stretcher bars, cradled wood panels, stretched canvas, flammable items, closeout or discontinued merchandise cannot qualify for our free shipping promotion. We reserve the right to ship via the carrier of our choice.

Copyright © 1997 - 2023 by Rex Art Co. All rights reserved. Prices shown are in U.S. Dollars. Prices are subject to change.