Home » Artool Flame O Rama 2 Templates Complete Set of 6
The original Flame-O-Rama™ was designed because of the deafening demand for it from the seething masses. Well, the seething masses are deafening again, so it is time for a sequel! Using the same rule of thumb, "no skulls", Craig has sent off a virtual plethora of designs for the work-release prisoners at the Artool Chemtox Labs to put into production. Just like the original series of flames, and all of Craig's other stencils, Flame-O-Rama 2 is made up of the same space-age solvent-proof polymer, that only the finest bathtub chemists can come up with. Throughout the years, Craig has learned that the more details and oddities in the design, make for fun antics with the computer guys. So with this in mind, check out some of the flaming monstrosities that you can now put into play with your latest graphic creation.
FLAME ON!
"The kewl thing about the new Flame-O-Rama 2 is the same kewl thing as with the original: "What you see, is what you get." Every airbrusher loves stencils that can be personalized with a little Freehand® technique. With Flame-O-Rama 2 it is pretty much point and shoot, and call it a day! Whether you use them for primary design layouts, stenciled backgrounds, or ghosted graphics, these stencils are guaranteed to be 100% flames, 100% of the time. What can I say? Y'all wanted some more flames... well you got 'em! Where else can you find this many kewl stencils in one location, without a single skull...??"
"As always, Peace, love, and Isocyanates."
Craig Fraser

Click to Enlarge
Van Flamin
The perfect stencil to go with your collection of "bitchin' Van Halen albums." Those that don't know what the hell a Van Halen is: "It is primarily known as a series of interconnected, random straight lines that vary in width throughout a graphic." There is also a guitar player that went by the same name with these graphics on his guitar!

Click to Enlarge
Classico
Everyone loves a classic, and Classico is a great addition to the Flame-O-Rama family - the heir apparent to Ol' School. Not much more to say than that... I'll be funnier on the next description!

Click to Enlarge
Fire Balz
Not only are FireBalz a kewl collection of different-sized flaming balls, but they work nicely as a negative space filler and will leave a positive flame image when laid out properly. (Remember, opposite of a positive flame image is a tear drop.) See, not so difficult!

Click to Enlarge
Flamgasm
What can I say, "Dont soil yourself?" (I think the computer guys did tracing this pig!) If you liked Flame-Dango in the original series then this one will make you go blind! (Disclaimer: No painters have gone blind using Flame-Dango, and Artool takes no responsibility for a painter's extracurricular activities.)

Click to Enlarge
Gothika
I have been a tribal geek for years, and I just felt that the tribal flame design, Slash, in the last series, needed a new and improved "evil" younger brother. Hence, Gothika! This baby is great for center tank designs and helmets. (Hey, just try cutting out this bad-boy sometime!!!) That's worth the price of the stencil alone!

Click to Enlarge
Spot
This self-titled flame stencil had three basic reasons for it's bizarre looking pattern: 1. It's kewl 2. It holds the shape of the flame nicely without looking like a packing crate stencil and 3. I wanted to show the computer geeks at Artool that there is a design more hideous to digitize than Lucky 13! Heheheheh...

Rex Price:
$121.57
Save 25%!


Join the Rex Art mailing list
Share: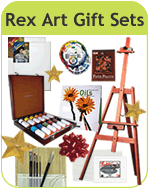 Green art supply product
Drop Ship - Item is shipped from manufacturer
Oversized - Additional shipping may apply
Item Ships via Truck - Additional shipping will apply
*Free Shipping Offer valid for single package non-oversized shipments over $100.00 (after all applicable coupons have been applied) and under 20 lbs. within the 48 contiguous United States only. All other areas must pay shipping and handling charges. Exclusions apply. Orders for stretcher bars, cradled wood panels, stretched canvas, flammable items, closeout or discontinued merchandise cannot qualify for our free shipping promotion. We reserve the right to ship via the carrier of our choice.

Copyright © 1997 - 2023 by Rex Art Co. All rights reserved. Prices shown are in U.S. Dollars. Prices are subject to change.