Home » Artool Kanji Master Mini Set


For centuries artistic images from the Far East have influenced fellow artists all over the world. There are many different styles, from ancient traditional temple art to trendy tattoo designs, including images of the past, from story telling to creatures and icons from Japan's rich and fabled history. Many of these images from Asian cultures are now viewed in museums, galleries, tattoo shops and on kustom painted bikes and cars. Dennis Mathewson takes great pride in sharing his travels to the East with the Kanji Master Artool Freehand Airbrush Template Series.
Artist Dennis Mathewson, of Cosmic Airbrush in Honolulu, Hawaii has over 35 years of kustom airbrushing and painting experience. When he's not painting, Dennis is writing, traveling, carving tikis and instructing at kustom painting workshops. Dennis' love of Hawaii and it's Asian influences is shared with you in his new Kanji Master Series from Artool.

Rex Price:
$34.62
Save 25%!


Join the Rex Art mailing list
Share: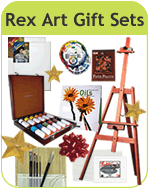 Green art supply product
Drop Ship - Item is shipped from manufacturer
Oversized - Additional shipping may apply
Item Ships via Truck - Additional shipping will apply
*Free Shipping Offer valid for single package non-oversized shipments over $100.00 (after all applicable coupons have been applied) and under 20 lbs. within the 48 contiguous United States only. All other areas must pay shipping and handling charges. Exclusions apply. Orders for stretcher bars, cradled wood panels, stretched canvas, flammable items, closeout or discontinued merchandise cannot qualify for our free shipping promotion. We reserve the right to ship via the carrier of our choice.

Copyright © 1997 - 2023 by Rex Art Co. All rights reserved. Prices shown are in U.S. Dollars. Prices are subject to change.