Home » Artool FX 3 Templates Complete Set of 6
If at first you don't succeed try, try, try, again; if you have succeeded, then you try even harder. Artool has proven this to be the case with the newest edition to the FX line of kustom Artool™ Freehand™ Airbrush Templates - FX3 is here! From the mind of Craig Fraser, and the work-release program of the criminally insane at Artool, they have done it again: another 6 stencils with a virtual plethora of goodies to sate the twisted minds of the most normalcy challenged kustom painter. With this industry getting more and more crowded with kustom painters, as well as templates, we figured you wanted a few new ones to play with.
These aren't quick photoshopped pics grabbed from some public domain clip-art disk. All of the Artool Templates are hand drawn, and created as template systems. This insures you the best designs, and most original concepts out there. Be warned: FX3 is not for the weak of mind. Wait...okay, they can be used by anybody, but they are definitely not made out of your flimsy garden variety acetate. Since they are used by kustom painters they have to be designed to put up with all the chemicals and nuclear waste that Artool uses. Combining laser-cut precision, with hand drawn creativity from the Artool Chemtox Lab, you are in for a treat with this new batch of paint tools!
So raid that piggy bank, go sofa diving and trade in that rare stamp collection because once again, it is time to go template shopping!

Click to Enlarge
Glyphs
Hey, everyone loves kewl Hieroglyphics! Artool has not only made a functional Egyptian alphabet but they also made the kewlest looking symbols available. Now you can spell out to your clients what you really think about them on the side of their vehicle, and the only people who will know what you are saying have been dead for some time or own the same stencil. As the song says, "...Paint like an Egyptian."

Click to Enlarge
Unchained
Artool's created some awesome repetitive chain designs that will please even the most extreme horror fan. Fat single-link, double-link, thrashed boat anchor, or twisted swingset - we've got your chain! Go the entire length of your ride with some serious chain work, or crisscross your bike tins. These chains are definitely off-the-hook and unchained!

Click to Enlarge
The Web
How many times have you really wanted that kewl spiderweb effect but it was just too hard to do? Well, here is your Mulligan! The Artool Web Template can be used to complete the entire effect. With just a little sketch work you can Freehand that spiderweb, giving your kustom paintwork the ultra tattoo look you are shooting for. Heck, tattoo artists can even use this baby to make their lives easier too!

Click to Enlarge
Blades
Pretty self-explanatory, huh? Artool decided to fill this sucker up with just about every blade in their arsenal, from classic razor blades to a nightmare collection of everything sharp and pointy. Excellent for graphic backgrounds, Blades is sure to be a favorite in our wedding-cake category, too!

Click to Enlarge
Musika
For all you musicphiles out there, this baby is yours! Eine Kleine Nacht Musik is the inspiration for this stencil. Craig even got his wife Donna, the concert violinist, to do the arrangement. This stencil is killer for long side graphics, background patterns or airbrushing up that quartet music at the last minute.

Click to Enlarge
Barby
No, this stencil is not full of dress-up dolls or nazi war criminals, but we will make all you barbed wire aficionados happy. Just think, now you can cover your favorite ride with your favorite barbed wire. Tight wrap, traditional western or penal colony concertina wire - whatever your sharp-wire fetish, we've got it all! Don't cut yourself unnecessarily trying to get that leading edge look. No pun intended!

Rex Price:
$117.38
Save 25%!


Join the Rex Art mailing list
Share: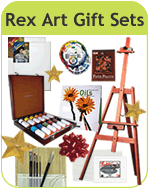 Green art supply product
Drop Ship - Item is shipped from manufacturer
Oversized - Additional shipping may apply
Item Ships via Truck - Additional shipping will apply
*Free Shipping Offer valid for single package non-oversized shipments over $100.00 (after all applicable coupons have been applied) and under 20 lbs. within the 48 contiguous United States only. All other areas must pay shipping and handling charges. Exclusions apply. Orders for stretcher bars, cradled wood panels, stretched canvas, flammable items, closeout or discontinued merchandise cannot qualify for our free shipping promotion. We reserve the right to ship via the carrier of our choice.

Copyright © 1997 - 2023 by Rex Art Co. All rights reserved. Prices shown are in U.S. Dollars. Prices are subject to change.