Home » Artool Horror of Skull Templates Complete Set of 3
The Artool Skull Master Series was created by Craig Fraser not to replace your creativity, but to spark it, by giving you a killer set of tools to help you make the finest skulls possible. Realistic fire is all the rage now, so why not realistic skulls!? Hence, the new series from Artool: Horror of Skullmaster. Don't worry, there are still plenty of horror movies for us to steal names from - so stay tuned!
Not only did they give you a more anatomically correct series of Calaveras, but they also gave you both the positive and negative skull templates as theyll as registration holes in each corner for perfect alignment. Used in conjunction, the Horror of Skullmaster will ensure the best-looking skulls you have ever done, and the freedom to finish them off in your own style. Just like the steak knives offered on those late-nite infomercials "...there's more!" Artool offers you Horror of Skull Master designs in three sizes. And what more could you ask for - except, maybe more stencils!? You can be sure they will continue to crank them out at the Artool Chemtox Lab, as long as you demand them. Keep the suggestions coming and they'll keep you supplied with the latest and best skin-challenged creations to ever be lazer-cut out of dead dinosaurs!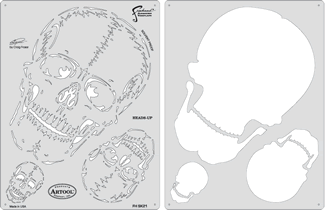 Click to Enlarge
Heads-Up
You can't get anymore dead-on than the gaze of this skull. Pretty self explanatory, eh? Either just point-and-shoot, or use these templates as sketching tools to help you layout your Freehand masterpiece. Now don't expect any star eyes, flames or maltese crosses - it was tough enough to keep Craig anatomically correct on these babies. As far as we can tell, he didn't sneak anything in... we'll leave that to you.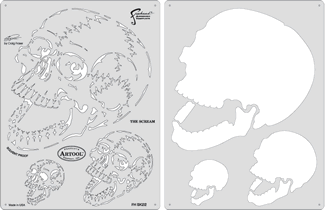 Click to Enlarge
The Scream
"Not Quite Dead." This unique 3/4 view allows you to give a little extra attitude and depth to the classic side shot. Use this bad boy on the side of a tank or in conjunction with the other two for a nice pile of skulls. The Scream is handy for cranking-out medical illustrations or covers for metal bands; this stencil is sure to become one of your favorites!


Click to Enlarge
Profile
The classic screamin' look is the image behind Profile. Artool has two other Skull Master profiles, but none with this much attention to detail or life-size scale. And this is sure to be a favorite for all the kustom chopper painters out there. With the ability to mask off and manipulate the jaw angle with Profile, both beginners and professionals alike will be painting some seriously evil, not to mention realistic, skulls this year!

Rex Price:
$95.40
Save 25%!


Join the Rex Art mailing list
Share: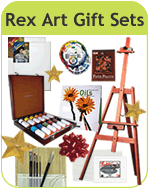 Green art supply product
Drop Ship - Item is shipped from manufacturer
Oversized - Additional shipping may apply
Item Ships via Truck - Additional shipping will apply
*Free Shipping Offer valid for single package non-oversized shipments over $100.00 (after all applicable coupons have been applied) and under 20 lbs. within the 48 contiguous United States only. All other areas must pay shipping and handling charges. Exclusions apply. Orders for stretcher bars, cradled wood panels, stretched canvas, flammable items, closeout or discontinued merchandise cannot qualify for our free shipping promotion. We reserve the right to ship via the carrier of our choice.

Copyright © 1997 - 2023 by Rex Art Co. All rights reserved. Prices shown are in U.S. Dollars. Prices are subject to change.