Home » Artool Tribal Master Set by Steve Vandemon
Steve Vandemon (yes, that IS his real name!) the artist and owner of Absolute Custom Paint in Anaheim, California, has been airbrushing for over 12 years. Along with Steve's numerous other talents as a crack-shot custom automotive artist, he is an accomplished sculptor, pin-striper, graphic designer and professional hard-rockin' bass player. He has appeared in countless (an unspecified large number!) publications throughout the world, as well as appearing on "Pimp My Ride", "Monster Garage", "Rides", "Chop/Cut Rebuild" AND has shown up on the cutting-room floor in the premiere of "Motorcycle Mania." Steve's artwork has also been exhibited at the prestigious Laguna Art Museum. With Vandemon's new ARTOOL TRIBAL MASTER SERIES™ (which contains 42 separate templates!) you'll be able to easily capture the unique styles and intricate contours which he has perfected throughout his career.
TRIBALNOMETRYS™
Since all of the TRIBALNOMETRY™ shapes are linear they can be either applied to long 'n straight(er) areas, OR you can curve them around bike tanks, fenders and/or other irregularly shaped surfaces for masking out various tribal styles and create tribal bands to infinity! Plus, you'll be able to concoct more symmetrical centerpieces with your TRIBAL MASTERS™ than you'll know what to do with!!!
CIRQUE DU TRIBLE'™
CIRQUE DU TRIBLE'™ shapes work perfectly for a myriad of background images. Whichever one of the TRIBLE'™ shapes you use, they are great for shading or for creating extremely intricate symmetrical themes. Here are a couple of HOT tips: ghosting effects are incredibly kewl when used with pearl finishes, and you can achieve some radically prominent effects when spraying opaque or metallic layers. Other uses include layout applications and creating designs you can easily cut out with an art knife.
"I prefer to use the positive TRIBALNOMETRY™ or CIRQUE DU TRIBLE'™ shapes for either background or layout applications; and I like using the negative cutouts for creating images on the fly!
"Hey, have a good time with your ARTOOL TRIBAL MASTERS™...and try not to tie yourself up in knots! Have a blast and stay tuned for the next installment from the TRIBAL MASTER!!!"
- Steve Vandemon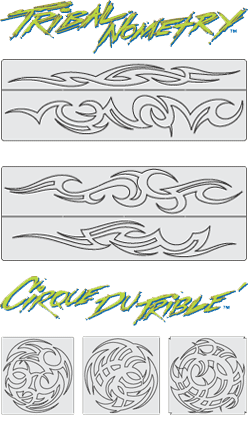 Rex Price:
$120.98
Save 25%!


Join the Rex Art mailing list
Share: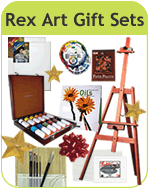 Green art supply product
Drop Ship - Item is shipped from manufacturer
Oversized - Additional shipping may apply
Item Ships via Truck - Additional shipping will apply
*Free Shipping Offer valid for single package non-oversized shipments over $100.00 (after all applicable coupons have been applied) and under 20 lbs. within the 48 contiguous United States only. All other areas must pay shipping and handling charges. Exclusions apply. Orders for stretcher bars, cradled wood panels, stretched canvas, flammable items, closeout or discontinued merchandise cannot qualify for our free shipping promotion. We reserve the right to ship via the carrier of our choice.

Copyright © 1997 - 2023 by Rex Art Co. All rights reserved. Prices shown are in U.S. Dollars. Prices are subject to change.