top
PRAT Paris Portfolios & Presentation Cases
When you purchase a Prat Paris portfolio or presentation case, you join the tens of thousands of advertisers, graphic artists, salesmen, models, photographers and designers throughout the world, who have put their trust in Prat for 25 years. You'll enjoy the classic good looks of Prat Presentation Products at Rex Art's great prices.

Rex Art is the largest distributor of Prat on the web. No one on the web carries more Prat products than Rex Art, or sells it at a better price. If Prat makes it, we carry it, and it is available every day at a great price. If you find a lower price let us know before you place your order and we will match it. Period! Go with Rex, a company you can trust, and the prices on Prat that you love! Plus, Rex Art offers fast, free shipping on orders over $100!

We also offer volume pricing for large orders. Please give us a call 800-739-2782 to discuss your needs!
Not sure which presentation product is right for your project? See choosing the right presentation product below.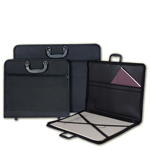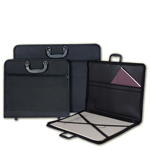 Choosing the right presentation product
Portfolio - Portfolios are the traditional carrying cases for artwork. They are usually zippered, but also may have tie closures. They are usually empty and are often available in larger sizes.
Presentation Case - Presentation cases are similar to portfolios, but feature a binding and sheet protectors in which to display artwork. Since they have a binding, they are not usually available in extra large sizes.
Compact Presentation Album - Compact presentation albums are books with sealed pages. They have a fixed number of pages and are not refillable. Their slim design makes them perfect for promotional materials and portable presentations, such as model or photographer portfolios.
Spiral Book - Spiral books fit somewhere between a presentation case and a compact presentation album. They are still slim and make a very clean, compact presentation, but rather than having sealed pages, they are bound with spirals. They may be fixed or refillable.
Ring Binder - Ring binders are professional versions of the binders you remember from school. They may have the classic three ring system or a multi-ring system. The three ring style makes the binder easy to use with a three hole punch and the multi-ring system makes the binders compatible with presentation pages.
Rod Binder - A rod binder is similar to a spiral book, but uses fixed cartridge of sheet protectors. The cartridges attache to the spine with a rod. The resulting presentation is slim and opens flat.
Post Book - Post books are bound with a post system, giving the presentation a modern look. They can be used with sheet protectors, adhesive hinges or pre-drilled paper.
Easel Binder - Easel binders are ring binders or presentation albums with built in easels for a quick, easy presentation. When the book is closed, the easel collapses.
Presentation Box - Presentation boxes are boxes made to store and present photos and artwork. They are often acid-free for long term storage.
Photo Album - Photo albums come in two varieties. The traditional photo album has acid-free card stock weight pages on which to mount photos with photo corners or adhesive. Modern photo albums have sleeves to hold the photographs.
Scrap Books - Similar to traditional photo albums, scrap books have acid-free card stock weight pages on which to mount photos, mementos and embellishments.
Green art supply product
Drop Ship - Item is shipped from manufacturer
Oversized - Additional shipping may apply
Item Ships via Truck - Additional shipping will apply
*Free Shipping Offer valid for single package non-oversized shipments over $100.00 (after all applicable coupons have been applied) and under 20 lbs. within the 48 contiguous United States only. All other areas must pay shipping and handling charges. Exclusions apply. Orders for stretcher bars, cradled wood panels, stretched canvas, flammable items, closeout or discontinued merchandise cannot qualify for our free shipping promotion. We reserve the right to ship via the carrier of our choice.

Copyright © 1997 - 2023 by Rex Art Co. All rights reserved. Prices shown are in U.S. Dollars. Prices are subject to change.