maimerimain.html
Maimeri Story

"For painters colors are infinite."
"Everyone thinks they can distinguish colors. Yet white means one thing to a painter and another thing to a tailor. For many people a colorist is a person that has developed an extraordinary sense to see...I am not talking of imitating the colors of nature nor of affirming their value, but of transporting a purely imagined reality into a thousand already experienced realities through the alchemy of color."
December 16, 1912 from the diary of Gianni Maimeri
These are the words of the man who founded the Maimeri Color Company in 1923, a prolific and noted Italian impressionist painter who first made highest quality paint to better express his own burning desire for artistic excellence.

Gianni Maimeri, with the help of his brother Carlo, who had developed a colloidal grinding system which was able to produce colors retaining their original consistency, began to experiment with these new "manufactured" colors at home on canvas. The results were so successful that the two brothers decided to embark upon a business venture. Since then, the Maimeri Company has continued to produce colors of exacting excellence.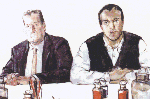 Gianni's son, Leone, and his grandson, Gianni, have been resolute in maintaining his original high standards of quality and in insisting that the Maimeri Company always stays closely connected with artists' needs. The result is a line of colors of impeccable quality, produced to satisfy the requirements of all people engaged in the hard and exciting task of giving life to true Works of Art.