At Rex Art, we're committed to bringing our customers products that will enrich their lives and protect the environment at the same time. We're proud to offer artists' products from Jack Richeson built with Lypus® hardwood, a sustainably harvested wood from Brazil.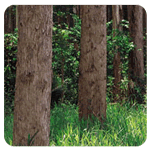 Lyptus® hardwood is a smart, environmental choice. This renewable, high-yield hardwood comes from fast-growing Eucalyptus trees grown on well-managed plantations in South America. Not only is one-third of the plantation area preserved as native vegetation, but also stands of indigenous trees are interspersed to preserve natural habitat.
Because these hybrid Eucalyptus trees thrive in South America's climate, they will grow to harvest size in approximately 14 to 16 years—two to three times faster than comparable hardwood species in colder climates. So, customers can be confident in their choice of a quality product from a consistent and environmentally sound source of supply.
Lyptus® wood products have received overwhelming praise among professionals for their exceptional workability, machining properties, density, finish tolerance, and overall strength. These features make it well suited for diverse high-end applications like furniture, cabinets, flooring, and architectural millwork.
The aesthetic appeal and endurance of Lyptus® wood products meet the demands of the most discerning residential and industrial customers.
---
Green art supply product
Drop Ship - Item is shipped from manufacturer
Oversized - Additional shipping may apply
Item Ships via Truck - Additional shipping will apply
*Free Shipping Offer valid for single package non-oversized shipments over $100.00 (after all applicable coupons have been applied) and under 20 lbs. within the 48 contiguous United States only. All other areas must pay shipping and handling charges. Exclusions apply. Orders for stretcher bars, cradled wood panels, stretched canvas, flammable items, closeout or discontinued merchandise cannot qualify for our free shipping promotion. We reserve the right to ship via the carrier of our choice.

Copyright © 1997 - 2023 by Rex Art Co. All rights reserved. Prices shown are in U.S. Dollars. Prices are subject to change.