canvasmain.html/canvas-stretcher-bars.html
BEST Lightweight Stretcher Bars
BEST manufactures medium-duty bars in White Pine. Due to a greater supply of pine in the thinner and shorter lengths, they use the high qulaity White Pine for these bars.
The lightweight bars are extremely useful in small paintings. They can save you money and make framing a little easier. Please note: lightweight bars are not for use on large paintings.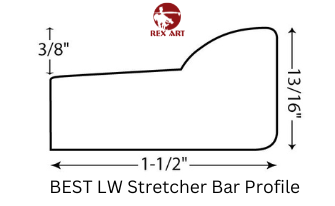 Dimensions: 1-1/2" wide x 13/16" deep with a 5/16" lip
Please note that pegs or stretcher corners are not included in your order by default, and are not required to assemble your stretcher frame. If you require pegs for your stretcher bar order please indicate it in your order comments, and the number that you will require. Additional costs may apply. If you request them after your order is processed additional fees will apply. Thank you.
Green art supply product
Drop Ship - Item is shipped from manufacturer
Oversized - Additional shipping may apply
Item Ships via Truck - Additional shipping will apply
*Free Shipping Offer valid for single package non-oversized shipments over $100.00 (after all applicable coupons have been applied) and under 20 lbs. within the 48 contiguous United States only. All other areas must pay shipping and handling charges. Exclusions apply. Orders for stretcher bars, cradled wood panels, stretched canvas, flammable items, closeout or discontinued merchandise cannot qualify for our free shipping promotion. We reserve the right to ship via the carrier of our choice.

Copyright © 1997 - 2023 by Rex Art Co. All rights reserved. Prices shown are in U.S. Dollars. Prices are subject to change.