acrylicmain.html/acrylicsets.html
GOLDEN High Flow Acrylic Sets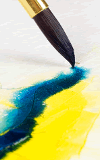 Introducing GOLDEN High Flow Acrylics, a new acrylic paint line that can go from brush to marker or from fountain pen to airbrush and more. From fine line detail work to broad strokes, High Flow Acrylic has an ink-like consistency that lends itself to a wide range of techniques, and a wide range of artists.
Perfect for:
Artists wanting fine line detail, staining effects, leveling colors
Calligraphers, Mixed Media artists, Airbrush artists
Artists working with Acrylic Inks.
High Flow Acrylics work great in refillable tools and are incredibly flexible.
High Flow Acrylics work great in refillable tools and are incredibly flexible. The following are just a few uses High Flow Acrylics are perfectly suited for: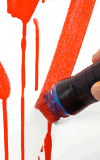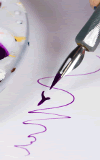 Ink
Mixed Media
Refillable Markers
Stain / Wash Technical Pen
Fine Line Detail Airbrush Brush Illustration
GOLDEN High Flow Acrylics are:
A line of 49 colors, including Fluorescent and Iridescent Colors made with the same ingredients of other GOLDEN Artist Colors paint lines.
Formulated with 100% acrylic polymer dispersion, resulting in a durable paint layer with excellent water and chemical resistance.
Made with finely ground pigments to reduce clogging issues in small tips and nozzles.
Additives such as flow improvers, film levelers and retarders create a very thin and free-flowing paint.
Application use ranges from fine line-work to large passages on a variety of surfaces, such as paper, canvas, panel and other artist supports.
APPLICATION
GOLDEN High Flow Acrylics (HFAs) are professional artist grade acrylic paints. HFAs may be used whenever a thin paint is required. This Product Information Sheet provides some general suggestions and starting points for specific applications, but each artist will develop their own methods and processes as needed
General Thinning Instructions: Avoid thinning with water more than 20% by volume when using in pens and airbrushes, or when doing applications on non-absorbent surfaces. Use Airbrush Transparent Extender for high levels of thinning/extending.


Blends with other GOLDEN Products:
NOTE: HFAs contain retarders which alter the drying times of a mixture; thicker paint layers may remain tacky for long periods of time.

GOLDEN HFAs are compatible with most GOLDEN Artist Colors' paints and mediums. They can be added to GOLDEN Heavy Body Acrylics or GOLDEN Fluid Acrylics to thin the paint without a loss of pigment or film strength. Extend HFAs with GOLDEN Airbrush Transparent Extender as needed. Adding high levels of water are acceptable when doing color stains on absorbent surfaces but additional layers of acrylic medium applied afterword may be required for long term durability.


Use as colorant/tint: As with any GOLDEN paint, HFAs may be used to add color to gels, mediums and pastes. They blend readily with thinner mediums, such as GOLDEN Acrylic Glazing Liquid, or GOLDEN Polymer Medium (Gloss).


Paint Sensitivity Timelines: The HFAs may require additional time to dry before applying other paints or mediums over them, especially if those materials contain retarders. Allow for HFAs to dry sufficiently to avoid sensitivity issues. In most applications the waiting period is several minutes.
Isolation Coats and Varnishing: Allow 12-24 hours for the HFA layers to dry before applying isolation coats or varnish layers. Some colors, such as the Fluorescent Colors, can take longer to fully cure than others. Test the process to identify the amount of time to wait for drying or which mediums can be more problematic than others.
Green art supply product
Drop Ship - Item is shipped from manufacturer
Oversized - Additional shipping may apply
Item Ships via Truck - Additional shipping will apply
*Free Shipping Offer valid for single package non-oversized shipments over $100.00 (after all applicable coupons have been applied) and under 20 lbs. within the 48 contiguous United States only. All other areas must pay shipping and handling charges. Exclusions apply. Orders for stretcher bars, cradled wood panels, stretched canvas, flammable items, closeout or discontinued merchandise cannot qualify for our free shipping promotion. We reserve the right to ship via the carrier of our choice.

Copyright © 1997 - 2023 by Rex Art Co. All rights reserved. Prices shown are in U.S. Dollars. Prices are subject to change.