drawingmain.html/pens_and_markers.html/drawnibs.html
Faber-Castell Pitt Artist Brush Pens
Faber-Castell Pitt Artist Brush Pens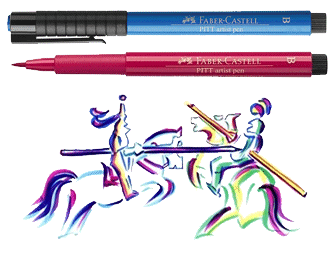 Pigmented India ink that is both acid-free and archival (PH neutral) smudgeproof and waterproof when dry. Our ink contains the highest quality pigments for unsurpassed light-fastness. Light-fastness rating and color name noted on on barrel of each pen.
Brush pens are ideal for graphic artists, illustrators, designers and architects.
Perfect for sketching, journals, cartooning, fine-ink drawing, scrapbooking and rubber-stamping.
Write a review of this product

Overall Rating: 5.00 from 1 reviews.