Art Supplies »
Loew Cornell La Corneille Round Watercolor Brushes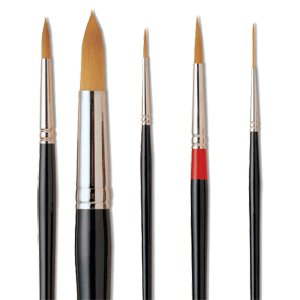 Blending three thicknesses of dyed synthetic filament, La Corneille Golden Taklon brushes perform like the finest natural hair. Highly absorbent, durable and versatile, they have a great snap. These brushes are perfect for watercolor - and can be used with all other mediums.
Rex Art Gives You Value Every Day!!
La Corneille Brushes are 50% OFF.
Write a review of this product
rating
title
date
name
city state/province country

For the price excellent! (5/5)
Jun 22, 2012
Janelle sundberg
Alexandria US US
I have painted in watercolor for over 25 years.
These brushes are a gem. I use them quite a bit for their great durability and tell my students about them - I tend to soften edges quite a bit on my portraits and wear down kolinsky tips - these hold up fabulous and surprisingly hold quite a bit of water.
Give them a try - buy the bigger ones & keep loose.
The pictures below are offered as shape references. They are not actual size.