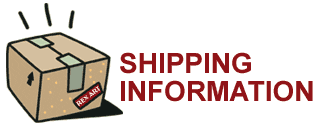 Shipping Rates
Shipping Times
Shipping Addresses
Shipping to APO/FPO Addresses
Shipping to International Addresses
We do our best to process all orders for shipment within twenty-four business hours, as long as the products ordered are in stock. All in-stock domestic shipments are sent via the US Postal Service or Fedex Ground service, unless otherwise requested. Next Day and Second Day Air Service may be requested at an additional cost. Please note that our published express rates are only valid for single package shipments under 5 lbs. and with the 48 US States. All other weights and locations are quoted based on your order and location.
The following is a table of basic shipping costs for standard shipments within the contiguous 48 United States.
Orders over $100 receive FREE SHIPPING*! In order to qualify for free shipping the order must be able to be shipped in a single, non-oversized package under 20 lbs. and must be shipped within the 48 contiguous United States. Orders for closeout or discontinued merchandise cannot qualify for our free shipping promotion. If you have any questions regarding this offer, please call us at 1-800-REX-ART2.
Order Amount

Ground*

USPS Priority Mail
(2-3 Days)**

Second Day Air**

Next Day Air**

Up to $29.99

$7.95

$16.00

$22.00

$44.00

$30.00 to $54.99

$10.50

$19.00

$27.00

$54.00

$55.00 to $84.99

$12.50

$24.00

$32.00

$64.00

$85.00 to $99.99

$14.50

$29.00

$39.00

$78.00

$100.00 to $199.99

FREE

$35.00

$45.00

$90.00

$200.00 to $299.99

FREE

$45.00

$60.00

$120.00

$300.00 +

FREE

$50.00

$70.00

$140.00
| | |
| --- | --- |
| * | Standard shipping rates and Free Shipping Offer valid for single, non-oversized shipments under 20 pounds within the 48 contiguous United States only. All other areas must pay shipping and handling charges. We reserve the right to ship via the carrier of our choice on shipments outside the 48 contiguous United States. |
| | |
| --- | --- |
| ** | Express Shipping Rates valid only for single package non-oversized shipments under 5 pounds within the 48 contiguous United States. USPS is not available for all shipments or direct shipped orders and is not a guaranteed or trackable shipping service. Generally, USPS Priority Mail arrives in 2 - 3 business days, which includes Saturdays. If you require guaranteed delivery service, please select the Second Day or Next Day Services. |
| | |
| --- | --- |
| | Shipping for oversized packages and to all areas outside the 48 contiguous United States will be quoted on a per order basis. |
Items marked with the truck symbol are too large to ship via a regular freight service and must ship via truck. The cost to ship items via truck is on average $115 - $275. For an accurate freight quote, please email us at service@rexart.com. It is often more economical to ship multiple items via truck, as the bulk of the charge is assessed for the first item, with smaller charges for each additional item. For example, if you purchase one canvas to ship via truck, it would cost a minimum of $115. But if you added additional canvases, or cases of canvases, the cost would most likely increase only $10 - $20 per box for shipment.

Someone must be present at time of delivery to inspect and receive truck shipments.
| | |
| --- | --- |
| | Orders marked with a DELIVERED PRICE logo receive free shipping to addresses within the 48 contiguous United States. We reserve the right to ship via the carrier of our choice. |
We will not ship any order before contacting you regarding any freight adjustments.
The following shipping times are valid for orders shipped from the Rex Art warehouse in Miami, FL.
We do our best to process all orders for shipment within twenty-four business hours, as long as the products ordered are in stock. You can expect either a shipping confirmation, or an order status correspondence within one business day of your order. We will not leave you wondering where your supplies are. If an item is out of stock, we will provide suggestions for similar products and give you an estimated arrival date for the sold out item. Also, your backorders over $25 ship free of freight (click here for more info on backorders).
| | |
| --- | --- |
| | On occasion, items may ship directly from the manufacturer. While we may process the order within 24 business hours, the below shipping times do not apply to these direct shipped orders. Please allow for an additional 3 - 4 working days for shipment. In addition, direct shipped orders may require additional shipping time, and be subject to additional fees. |
You will be notified via email if your order is to be shipped either partially or completely from another warehouse. Tracking information for items shipped outside the Rex Art warehouse is available via email request only.
Please note: the map below is for reference only. If your is shipped via our Free shipping promotion we will ship via the carrier of our choice, which could be FedEx Ground or USPS Mail Service. If your order is time sensitive, please choose the Second Day option. Shipping days below do not include Saturday or Sunday.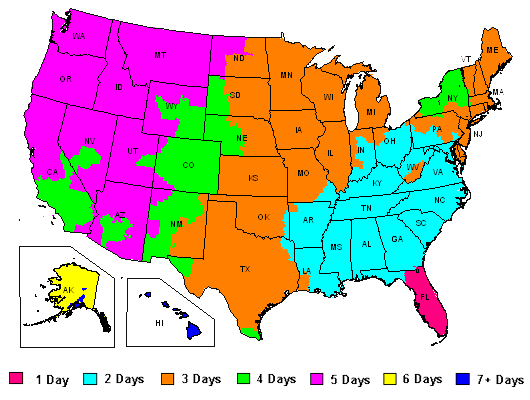 FedEx cannot deliver to P.O. Boxes. If your billing address is a P.O. Box please provide us with a street address in the shipping address section at checkout to allow for FedEx delivery.
Shipping to APO/FPO Addresses:
APO/FPO shipments ship via USPS Priority Mail. We will contact APO/FPO customers with a freight quote before shipping to any APO/FPO addresses. APO/FPO customers do not qualify for our Free Shipping Promotion.
Shipping to International Addresses:

Rexart.com has partnered with a trusted third-party company, GlobalShopex.com to fulfill orders for our international customers. Simply put any items you wish to purchase in your shopping cart and choose the "international checkout" option. The items will automatically be transferred to the GlobalShopex cart. You may pay with international credit cards, PayPal and bank wire transfers. GlobalShopex will process your payment and guarantee delivery. Once your order is completed, all inquiries should be directed to GlobalShopex at customerservice@globalshopex.com or (786)314-7144.
You may also contact GlobalShopex at one of their local numbers:
Australia (Sydney) · Tel: (612) 9037 0252
United Kingdom · Tel: (020) 3371 9380
Japan (Tokyo) · Tel: (3) 4520 9639
Spain (Madrid) · Tel: (91) 829 5114
South Africa · Tel: (27 10) 500-2487
Canada (Toronto) · Tel: (416) 840 5719
France (Paris) · Tel: (01) 7666 0593
Mexico (DF) · Tel: (55) 8525 3179
Brazil (Sao Paulo) · Tel: (11) 3957 0408
Peru (Lima) · Tel: (1) 718 0788
Colombia (Bogota) · Tel: (1) 508 2859
Chile (Santiago) · Tel: (2) 368 0900