FABRIC PAINTING
APPLICATIONS & TECHNIQUES
Liquitex Professional Grade Acrylic Colors are the most permanent paints for fabric. Available in two viscosities, they offer the largest assortment of pure pigments of any professional quality acrylic paint. Their exceptional quality, durability, adhesion and lightfastness allow artists to:
Achieve permanent colors without heat setting, steaming or chemical fixing.
Stencil, watercolor, airbrush, marble, stamp, silk-screen, dye or stain.
Paint on cotton, cotton-poly blends, woven, knitted, felt, terry cloth, silk, velvet, velveteen, corduroy, flannel, suede, leather and most synthetics.
Liquitex Professional Grade Medium Viscosity Concentrated Artist Color
Ideal for most fabric painting techniques, especially lightweight or textured fabrics.
Colors dry to a smooth, even surface with good leveling and few brush marks.
Use for flat large area coverage, fine line detail, airbrush, stencil, watercolor, staining, dying, silk screen, calligraphy and marbling.
Creamy consistency allows for mixing easily with water and mediums.
Liquitex Professional Grade High Viscosity Artist Color
A heavy bodied paint that has an exceptionally smooth, thick buttery consistency.
When dry, retains brush stokes and palette knife marks. Excellent for impasto.
Flexible when dry, allowing built-up surfaces to remain free of cracks and chips.
GENERAL INSTRUCTIONS
Pre-wash new fabric to remove sizing, which interferes with paint adhering to fabric.
Loose fabric weave allows more of the color to penetrate the fibers.
Do a test piece to ensure the compatibility of the fabric and your technique. Each fabric has a different absorbency, which affects how color spreads on fabric.
Place cardboard, plastic or wax paper under fabric to protect and prevent the fabric from sticking to work surface. Stretch sweatshirts with cardboard for proper paint application.
Applying thick paint to large areas will tend to stiffen fabric.
Iron on low synthetic heat setting. Use a pressing cloth or iron on reverse side of fabric.
LIQUITEX MEDIUMS and ADDITIVES
For more information, refer to Part I: Liquitex Acrylic Mediums and Liquitex Additives
Enhances workability of acrylic paint and eliminates stiffness of dry acrylic paint on fabric.
Prevents uneven application of paint to rough textured fabrics and controls color bleeding.
A flow promoter and wetting agent that improves flow, absorption and blending of colors.
Mix into colors to increase transparency, gloss and to add flexibility and adhesion to paint.
Creates a matte or dull, non-reflecting finish when added to acrylic colors.
Produces an entire palette of iridescent or metallic colors when mixed into acrylic colors.
Mix into colors to add gloss, flexibility and adhesion to paint, use for dimensional line work.
Mix into high viscosity colors to add dullness, satin sheen flexibility and adhesion to paint.
Mix into high viscosity colors to add gloss, thickness, flexibility and adhesion to paint.
Increases drying time, aids color blending, keeps paint in silkscreens from drying.
Gel Retarder
Similar to Slow-Dri Fluid Retarder in a gel formulation. Use in silkscreen and color blending.
Liquitex Blending & Painting Medium
Improves flow of paint and extends drying time.
Add to Medium Viscosity Color to produce the proper spread and control of colors when floated on top of a marbling "size", such as liquid starch, gum tragacanth, Irish Moss, etc.
Airbrush Medium
Thins colors to a sprayable consistency and decreases clogging and paint buildup.
DRYING TIME
Drying time will vary from fabric to fabric. Liquitex Acrylic Paints will dry to touch in 5 minutes to 2 hours, depending on the type of fabric and how much paint has saturated it.
WASHING FABRIC
After paint fully dries, wait at least 4 days before washing the fabric.
Hand wash and drip dry is best. Do not presoak or use hot water. Wash items inside out.
Machine wash fabric in warm water. Use permanent press/gentle cycle.
Dry cleaning machines that spin-dry fabric at room temperature are recommended. Dry cleaning suede is acceptable. Spot cleaning solutions should be avoided or used sparingly.
FABRIC PAINTING TECHNIQUES
Airbrush and Spray
Paint: LiquitexMedium Viscosity Colors
Medium or Additive: Liquitex Airbrush Medium.
Mix 1 part Medium Viscosity Colors with 1 part Airbrush Medium.
Add more Airbrush Medium as needed to achieve desired consistency.
Colors must permeate cloth and be seen as ghost image on reverse side to be permanent.
Refer to Part 2 Applications & Techniques:Airbrush, for more information.
Blockprinting
Paint: Liquitex High Viscosity Colors
Medium or Additive: Slow-Dri Gel Retarder
Coat a linoleum or wood block with waterproof varnish.
While the varnish is wet, sift finely shredded fabric (flocking) onto the varnish. When dry this absorbent surface will hold paint for application.
Thin High Viscosity Artist Color with up to 25% Slow-Dri Gel Retarder and spread paint onto the block with a soft foam roller.
Wet the fabric and place the block face down onto the cloth pressing firmly and evenly.

Stretch the fabric on a padded surface to help facilitate printing. Use fabricsthat are absorbent and medium-to-heavy in weight without deep texture.
Brushwork
Paint: Liquitex Medium or HighViscosity Colors.
Medium or Additive: Liquitex Slow-Dri Fluid or Gel Retarder, Fabric Medium.
Mix Medium Viscosity colors with Fabric Medium for a softer feel to finished painting.
Drawing
Paint: Liquitex High Viscosity Artist Color
Medium: LiquitexGloss Gel, Gloss Heavy Gel or Matte Gel Medium
Screw a plastic cake decorator tip onto a 2-oz. tube of High Viscosity Artist Color. Squeeze apply.
Mix paint with Liquitex Gel Mediums. Squeeze apply with cake decorator to produce thick lines.
Use absorbent fabric. Hand wash.
Dyeing and Staining
Dyeing and staining fabric and raw canvas can only be done with acrylic emulsion paints such as Liquitex Acrylics. Acids in oil paint will attack and destroy fabrics and canvas over time.
Paint: Liquitex Medium Viscosity Concentrated Artist Colors
Medium or Additive: Liquitex Flow-Aid Flow Enhancer
Dyeing
Wash fabric to remove any starch or sizing.
Mix Flow-Aid Water (1 part Flow-Aid to 20 parts water) with Medium Viscosity Concentrated Artist Color. Refer to Additives: Flow-Aid Flow Enhancer.
Start by mixing 1 part color and 3 parts FlowAid Water (FAW). Add more FAW to increase transparency and decrease color intensity.

Transparent and translucent colors work best and dry with a softer fabricfinish.
For hard edge dying, do not pre-wet fabric. For soft edge, pre-wet fabricwith FAW.
Tightly woven cotton and silk will achieve richest colors (weave is closetogether).
A hot wax resist may be used for hard edges.
Remove wax resist by dry cleaning.
All colors are permanent and need no heat setting. Wet colors will dry lighter.
Titanium White, Iridescent and Interference colors may stiffen fabric.
Staining
Marbling
Refer to Part 2 Application & Technique: Marbling, for detailed instructions.
Silk-screen
Paint: Liquitex Medium or High Viscosity Colors
Medium or Additive: Liquitex Slow-Dri Fluid or Gel Retarder, Gloss Medium & Varnish
Mix up to 25 % Slow-Dri Fluid Retarder into paint to slow drying.
Squeegee paint through screen. Wash screen with water immediately after use.

Viscosity of paint to be used depends upon fabric selection and personalchoice.
For heavyweight fabric use Medium Viscosity colors.
For lightweight fabric use High Viscosity colors.
Gloss Medium & Varnish can be used as a permanent screen block solution.Apply directly to screen.
Stamping
Paint stamp with either Medium or High Viscosity Colors.
Place painted side down onto surface. Press evenly on fabric. Paint must penetrate fiber.
Stenciling
Use either ready made stencils or cut from heavy paper, oak tag, acetate or self adhesive frisket films. Use spray stencil adhesive if necessary,
Apply paint with polyurethane foam dauber, rag or stencil brush.
Do not force paint under the edge of stencil.
Thinning paint may cause it to spread.
Watercolor
Use Medium Viscosity Concentrated Artist Color, thinned with water to desired consistency.
Multiple applications can be painted over once dry without picking up underlying colors.
Lightweight fabrics allow paint to spread quickly.
LEATHER
Leather is a difficult surface to achieve long-term paint adhesion. Leather can vary in surface, thickness, fiber structure, oil content, dye type tendency to stretch. These factors will influence long-term paint adhesion. Always do a test sample, prior to painting.
Surface Preparation
For maximum adhesion and longevity, the paint should penetrate into the leather. Deeper penetration will achieve greater adhesion.
Any protective coating must be removed (abraded or sanded) for paint adhesion.
Remove surface oils by wiping with rubbing alcohol, denatured alcohol or acetone. Apply solvents only to those areas where paint will be applied.
Shiny and smooth leather can be prepared by sanding with fine sandpaper or emery cloth.
Painting Techniques
Before applying paint, flatten and adhere leather to a stable surface.
For achieving bright, light colors on dark leather first apply Medium Viscosity Titanium White thinned with 25% water to the painting area.
Follow any of the above Fabric Painting Techniques.
Cleaning
Wipe with water dampened cloth or small amount of mild soap and water.
Care
Most leather will stretch beyond the binding capability of acrylic paint. Liquitex) Acrylics are extremely flexible and durable and offer superior results on this type of surface.
Acrylic paints can crack if bent at temperatures below 45 F.
---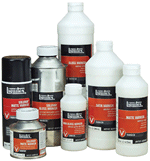 ---
---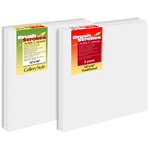 ---