oilsmain.html/oilpaintsmain.html
Richeson Oils - The Shiva Series
Richeson Oils - The Shiva Series

Free Gift with Purchase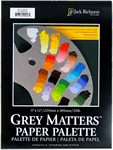 Purchase 6 Tubes of Richeson Oils, The Shiva Series and get a FREE 9" x 12" Grey Matters Paper Palette!
This unique, disposable solution helps artists working on a toned surface be able to see how the colors will appear on neutral surfaces before applying them to the painting. The paper is suitable for oils, casein, acrylics and alkyds, and each pad includes a color mixing reference guide inside the front cover.
Here at Rex, Shiva paints have always been one of our most popular product lines. We have carried their fabulous Casiens and Oils for over 40 years. Unfortunately, in the eighties and nineties the line began to stagnate with production and quality control issues. Many of our customers started to notice that, Shiva, their favorite American made brand was not the same quality that they were accustomed to. Shortly thereafter, the company manufacturing Shiva decided to sell the rights to manufacturer the Shiva brand. Along came Jack Richeson, a man, that stakes his reputation and that of his family's company every day on the quality products they manufacture.
Colleen Richeson, Jack Richeson's daughter, and national sales manager for the Richeson company, was kind enough to share some inside information about the rebirth of Shiva. According to Colleen, when her Dad was a young man he delivered artist materials in Chicago to Ramon Shiva, the creator of Shiva Oils & Caseins. It was then that a dream evolved in Jack's thoughts to one day produce the finest line of oil paint imaginable. When Shiva was available for sale Jack felt that he could finally realize his dream so many years later, to produce the highest quality oil imaginable at a price that would allow even a beginning artist to afford to paint with the best. And so the Richeson family, bought the Shiva line to manufacture right here in Kimberly, Wisconsin!
Visit our blog for the full story about the new Richeson Oils and see how they are made!
Traditional Old World pigments
Professional quality
Priced for everyone!
Brilliant, rich colors
Buttery, reliable consistency
High permanency, free from fading, darkening, yellowing and cracking