The 3-1/2 x 3-1/2 ViewCatcher is constructed of durable plastic to hold up to the elements and provide years of use. It is colored a #5 gray to help judge value and has a small sight opening in the center that enables artists to see "true" color. It can be held at different distances and the adjustable opening can be oriented horizontally or vertically to help find just the right composition.
Uses:
Create strong compositions
Quickly identify color values
Make color decisions
For professionals, amatuers and students
For painting, drawing, photography, quilting, interior design, landscaping, craft projects
Qualities:
Mid gray helps in adjusting value
3-1/2" x 3-1/2"
Built from durable ABS plastic
An opening helps you to see "true" color
Opens vertically or horizontally to help you find the right composition
Use the premarked mesurements to approximate standard sizes
View your subject matter or painting without the distraction of surrounding elements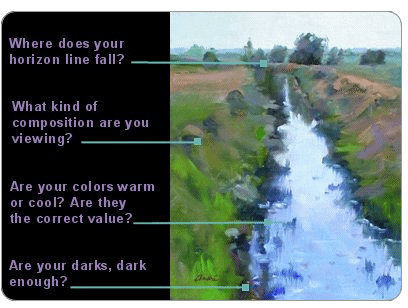 Solve Common Painting Problems:
Composition, Value Judgment, True Color.
Use it to find placement of your still-life objects and focal points.
Plein-aire artists now have a weapon in the battle for the perfect landscape.
View your subject matter or painting without surrounding elements.