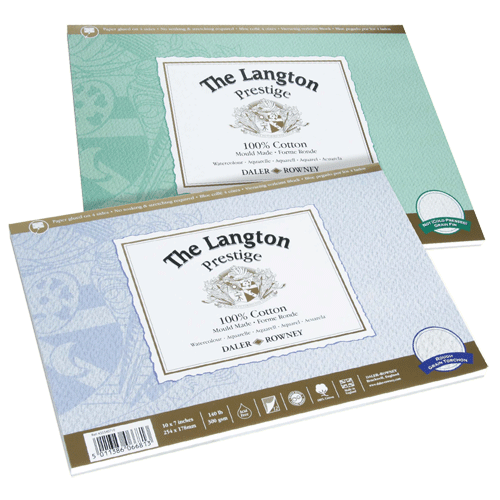 At Rex Art we are always looking for great new products from our manufacturers, and Daler Rowney has launched a premier watercolor paper line called Langton. We partnered with Daler Rowney to offer this fabulous paper to our customers first, and it is now available from us.
Langton watercolor paper is a professional line of paper made with 100% cotton pulp of the highest quality, and is acid free. It is traditionally made on a cylinder mould machine, and features a gelatinized surface for strength and resilience. Currently, it is available in pads, blocks, and 10 packs of 22″ x 30″ sheets with a weight of 140 lbs / 300 gsm. We also offer a beautiful Langton watercolor sketchbook with 200 lb paper, and a side spiral binding, which would make a great on the go watercolor substrate!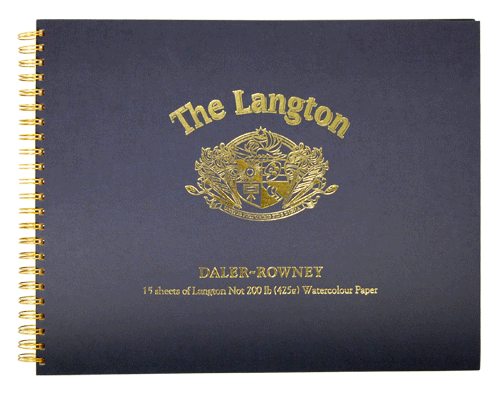 What was really surprising to us was the value of the Langton watercolor papers. The Langton is of equal or better quality than a leading national brand like Arches or Fabriano, but is very affordable. For instance, currently we offer the 10 packs of the 22″ x 30″ paper for $35.48 per package, or only $3.54 per sheet! That is very affordable for a watercolor paper of that size, and quality. Definitely worth a try.
If you would like a sample of the paper included with your next order please mention it in your order comments and we will include a complementary sample for you. You know at Rex you can always count on great prices, and the Langton watercolor papers are currently available up to 50% off. Also, from now until the end of August we have an extra 10% off available for any of the Langton watercolor paper products. Simply add this coupon to your cart by entering the code below, or click this coupon. We would love to hear your feedback regarding the new Langton papers. Please post your comments here or post a review.
Coupon Code: 1245367810
Save an Extra 10% on Langton Watercolor Papers