COUNTDOWN TO LAUNCH

Here at Rex, Shiva paints have always been one of our most popular product lines.  We have carried their fabulous Casiens and Oils for over 40 years. Unfortunately, in the eighties and nineties the line began to stagnate with production and quality control issues. Many of our customers started to notice that, Shiva, their favorite American made brand was not the same quality they were accustomed to.  Shortly thereafter, the company manufacturing Shiva decided to sell the rights to manufacturer the Shiva brand. Along came Jack Richeson, a man, that stakes his reputation and that of his family's company every day on the quality products they manufacture.
Colleen Richeson, Jack Richeson's daughter, and national sales manager for the Richeson company, was kind enough to share some inside information about the rebirth of Shiva.  According to Colleen, when her Dad was a young man he delivered artist materials in Chicago to Ramon Shiva, the creator of Shiva Oils & Caseins.   It was then that a dream evolved in Jack's thoughts to one day produce the finest line of oil paint imaginable.  When Shiva was available for sale Jack felt that he could finally realize his dream so many years later, to produce the highest quality oil imaginable at a price that would allow even a beginning artist to afford to paint with the best.  And so the Richeson family, bought the Shiva line to manufacture right here in Kimberly, Wisconsin!
As you can see below, making the professional quality, American made Richeson Oil – The Shiva Series is a time consuming, pain-staking process. It requires serious skill, dedication, and a willingness to never compromise on quality.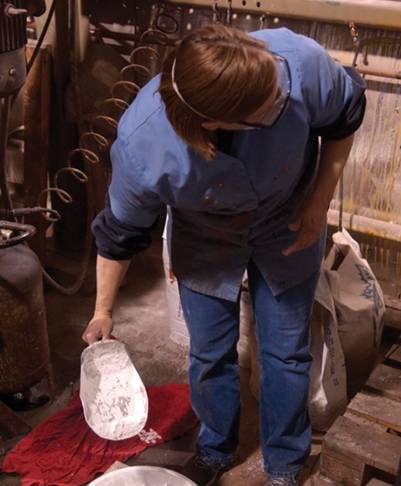 Richeson Oil – The Shiva Series is manufactured using only the highest quality pigments and binders.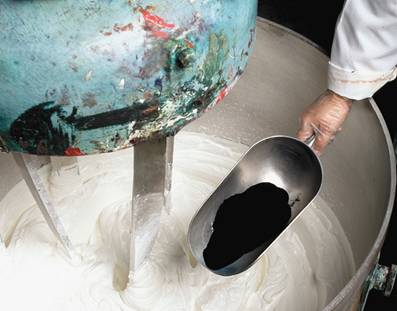 Pigments are carefully measured and added to insure consistency from batch to batch.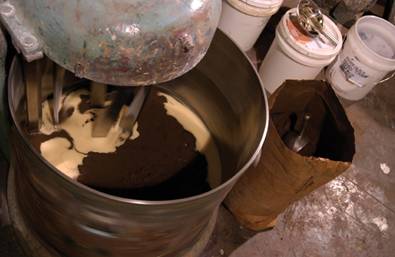 Mixing of pigments into the vehicle. Depending upon the colors the blending or mixing process can take up to 8 hours.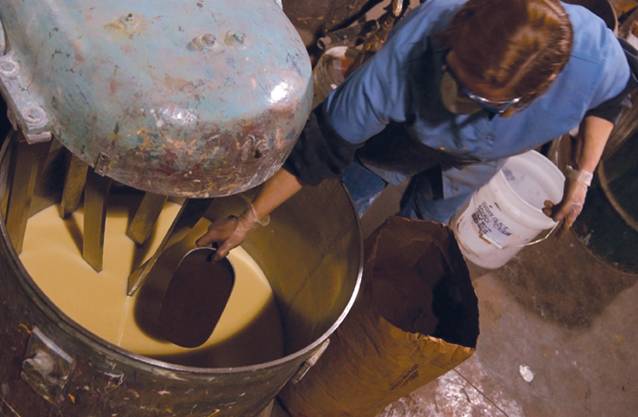 Several different types of mixers are used to blend pigment into the base. Some colors may require extended mixing times and a heavy mixer like the one above is required.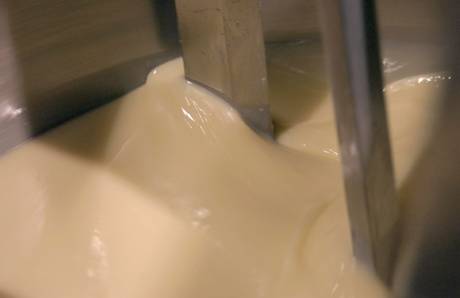 The mixing process in its final stages before going to the mill. Following the milling process, Richeson allows the paint to "rest" to give time for maximum oil absorption by the pigments.
Most modern companies tube immediately eliminating this important step. It's only after resting for between 60-120 days(depend on pigment) can further tests be done to determine if further milling is necessary to achieve the much desired consistency. days(depend on pigment) can further tests be done to determine if further milling is necessary to achieve the much desired consistency.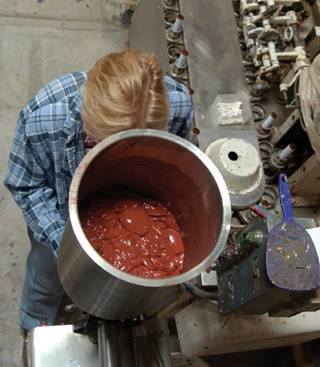 Richeson Oils – The Shiva Series – All tubes are still hand filled using a gravity feed system.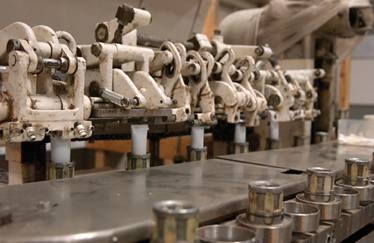 After hand filling the Richeson Oils the bottom of each tube is mechanically crimped for a tight seal.
Rex Art has always featured products from The Jack Richeson company because they bring the "Best of the Best" to artists. Some other brands that are offered by Richeson are the Unison Pastels, Best Easels, Best Stretcher Bars, Quiller Watercolors and Acrylics, Richeson Watercolor papers along with many other well respected products. I am sure that the Richeson Oils will add to the legacy of the best of the best products presented to our customers from Richeson.
From the Richeson and Rex Art families, we are proud and excited to be able to offer the first taste of the rebirth of the Richeson Oils – The Shiva Series to our customers. From now until August 1, 2009 we are taking advance orders for delivery in early August. All customers that pre-order from now before August 1 will also receive an additional 10% savings coupon, which is a great way to save even more off our already excellent prices! Get your order in now to reserve your favorite colors. I am sure you will not be disappointed. We would also love to hear from you regarding your feedback on the Richeson Oils – The Shiva Series. Please post your comments here or a review on the page.
Coupon Code:1245716924 – Good till August 1, 2009
Extra 10% Pre – Order Special for Richeson Oils – The Shiva Series