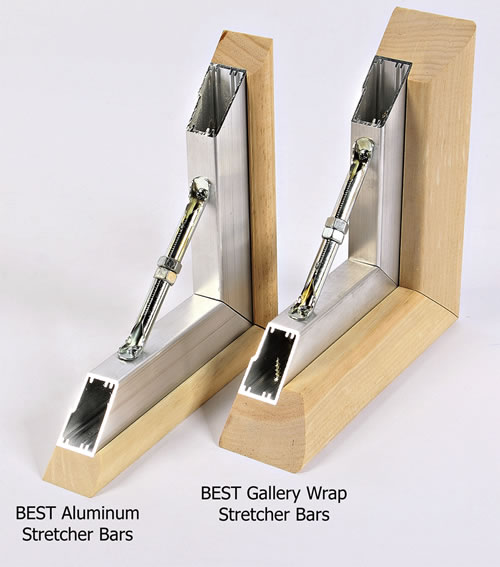 Artists need a go to place where they are able to get all their art supplies, including canvas and stretcher bars. Rex Art has stretchers that are pre-cut and spliced for easy assembly, meaning anyone should be able to put these together. Rex Art only carries the finest quality stretcher bars to produce a sturdy and durable support for your next canvas project. Do you know who the top manufacturers are for your stretching application? We do at Rex Art. That is why we only carry BEST and Fredrix.
How Reliable Are Your New Stretcher Bars?
When choosing which stretcher bars to use, you should carefully measure the size of the canvas you are stretching and consider what type of bar to use.  Keep in mind that you need to allow enough extra canvas to staple on the side or preferably the back of the stretcher bars (gallery wrap).  You can choose from the most lightweight to our aluminum heavy duty gallery stretcher bars.   Heavy duty stretcher bars have a wider profile (what you see when hung against a wall) and require more canvas to staple on the back of the stretcher bar.  Measuring your artwork, the type of stretcher bar and scope of the project will help you determine what to buy.
Not sure what stretcher bars would be best for your job? We know it can be confusing.  Here at Rex, we have helpful and most importantly knowledgeable Rex Associates standing by to answer any questions to help you with our massive selection of stretcher bars.   We have over 100 years of combined experience.  No question is a dumb one – we are here to assist you with your creative needs!
Buy Your Stretcher Bars at Rex Art in Bulk and Save!
When you know that you are going to be stocking up for your next showing, gallery, or even for your personal hobby, consider buying in bulk and save even more with Rex Art. Don't know who Rex is? You should! Please visit us at www.rexart.com.