Ever used or heard of Maimeri Polycolor Acrylic? Most of our customers have never tried them, but usually when they do they are really impressed with the quality, look and feel of Polycolor.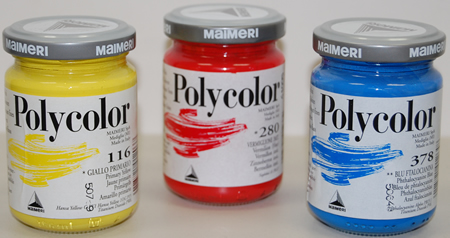 Maimeri is one of the few family owned and operated art supply manufacturers left in existence. Their family and company is based in Italy, and has produced a full line of artistic supplies since 1923. If you are interested there is some interesting background information on them here:

Maimeri Story

Specifically, Polycolor acrylics have a unique matte, velvety appearance, and the full range of colors dries with these characteristics. The look of the colors almost have a gouache type appearance, but with the benefits and qualities of a traditional acrylic. The colors in the range were also selected for their high lightfast rating, which makes them a popular choice for professional applications or outdoor murals. Recently, one of our customers posted the following review of Maimeri Polycolors:

I am a muralist; 10 years ago a wonderful sales consultant at Rex Art highly suggested that I try this product. It changed my life, truly! It's a fantastic paint that holds up to sun and even waterpark chemicals. The first mural I painted with this product was in a very wet waterpark with inadequate ventilation. It's still there, in it's original state. The bright brilliant colors are remarkable. And, it's affordable enough to help me stay under budget. THANK YOU, Rex Art for recommending this product.

Right now through June 1, 2009 we are offering an additional 10% off coupon. Whether you have never tried them or are intrigued now is a great time to give them a try! Please let us know what you think about them by posting your comments here.