We've added some great new items this week!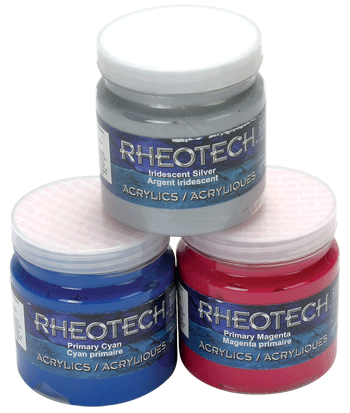 Rheotec Acrylics
Rheotech Acrylics offer a fantastic balance of value and quality for beginners and art students. The full palette of 33 vibrant colors provides teachers and students with the necessary tools for color theory and mixing.
Rheotech Acrylics have a creamy, workable consistency while maintaining the ability to hold texture. They are formulated to provide a variety of diverse effects ranging from thin washes to heavy impasto. Rheotech acrylic colors maintain a consistent viscosity and finish throughout the line. The creamy, smooth flow of the paint will sustain knife and brush marks, while continuing to maintain a uniform paint film and rich color in a thinned state.
Rheotech Acrylics dry to a flexible, water-resistant film, which makes them suitable for application on a variety of surfaces, such as paper, wood, clay, plaster, and more. However, application on oily or greasy surfaces is not recommended.
Rheotech Acrylics are non-toxic and virtually scent free making them the ideal choice for both the studio and classroom.
Jack Richeson Pastels
We've added three lines of Jack Richeson pastels that we KNOW you love! The handmade round pastels are so velvety, you won't want to put them down. A great complement to the handmade pastels, are Richeson's round pastels. And the semi-hard square pastels round out the selection. They are great for laydown and can be sharpened to a point. All of the lines come in sets up to 120 colors. The handmade and round pastel sets all come in beautiful wooden boxes, making them ideal gifts. The 72 & 120 sets of the square pastels also come in wooden boxes and the smaller sets come in convenient paper boxes, making them easy and quick to grab for drawing on the go.