Here is some cool news we just received, but hurry the deadline is quickly approaching! Happy T-Day everybody.
Lonny.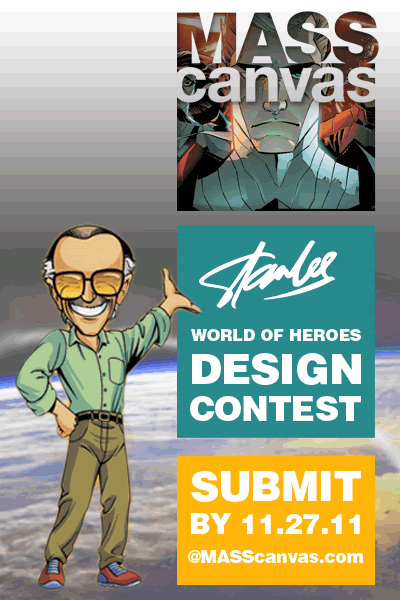 The formal President of Marvel Comics is teaming up with online community MASScanvas, encouraging fans to design and illustrate "HERO-themed" T-shirts. Anyone can enter! The prize is a total of $5000 and a portion of the sale of winning T-shirts will benefit the John Wayne Cancer Institute.
Through Sunday, November 27th, anybody can submit designs for the 'WORLD OF HEROES' challenge at masscanvas.com. ALL entries will be featured on masscanvas.com, the only requirement being they reflect the theme of "WORLD OF HEROES." Entrants and fans can comment on designs throughout the challenge and VOTE for the top 20 designs. On December 8, Stan Lee will choose 5 winning tees (each receiving a $1,000 cash prize), from the top 20, that he feels best represent the theme. The 5 winning tees will be custom printed in limited quantity, individually hand-numbered, and sold in support of the charitable cause.
Here's a video with a bit more info about the contest:
[youtube]http://www.youtube.com/watch?v=Rp7Vrg-divo][/youtube]