Here at Rex Art Supplies we are gearing up for our busiest time of the year. Although it can be hectic, it is a great time of year with all the cool gift items that fill our digital shelves for the upcoming artistic gift giving season. In advance of the gift giving season we scour the art supply landscape searching for the best items, choosing only what we think are the best art gifts of the season for you! It's always a joy for me to see all the wonderful new creative gifts available to add each season. In the spirit of the season we are going to focus on a few items every week and we hope it might make your gift giving a bit easier.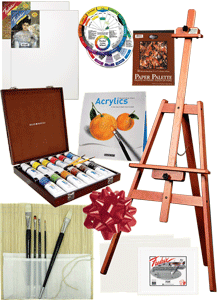 There are a couple of things to remember to make your holiday shopping a lot easier at Rex. First, we try to make gift giving as easy as possible and as painless as can be for you, and here is how. Depending on what you are looking for we break all our gifts down into media categories. Here is a quick link breakdown to find the right gifts quickly:
What if you are not necessarily looking for any particular type of art gift, but you are thinking of a certain price range? Well, we have you covered there also. Here is a breakdown of tons of great artistic gift ideas from our massive inventory at Rex by price:
Lastly, we know that many of our customers this time of year do not know the first thing about art, and that is why we are here to help! Our 800 number is available Monday through Friday 8:30 AM to 6:00 PM for you to ask any questions you might have have about a particular product, question, or just any feedback you might have. Our Rex family is standing by, and everyone that answers our phones have been here for at least 10 years! If we do not know the answer we will find out for you. No question is a stupid one and we are happy to help in any way we can. We are also available anytime via email, and we do try to respond to all questions as quickly as possible.
As always our family at Rex thanks you for your support! We wish you and yours a happy, healthy and safe holiday season!