drawingmain.html/pens_and_markers.html/marker_aisle.html
Copic Various Inks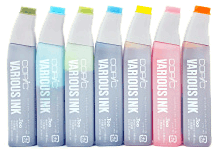 Extend the life of your Copic markers with Copic Various ink. Choose from over 340 colors (yes, this page is really long). Or mix your own colors in an empty bottle and refill an empty Sketch or Wide for your own custom marker.
One bottle of Various ink will refill a Ciao marker 13 times, Sketch 8-10 times, Copic 7-9 times, or Wide markers 5-6 times. Match the Various Ink color number with your marker color number. The bottles are easy to use and refilling is a snap when you use the Copic nib tweezers and booster needle.
Various inks have permanent, consistent color, and clean up with rubbing alcohol. Measures are marked on the bottles which have an angled tip for easy application. The bottle is also recyclable.