Home » Prismacolor Art Marker Set of 12 - Color: Warm Greys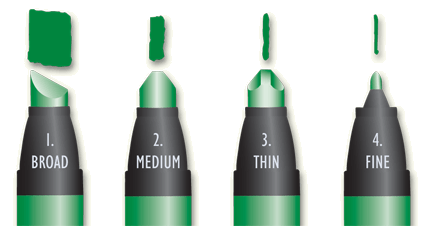 Prismacolor Markers offer consistent ink flow and laydown, brilliant color and excellent ink coverage, with just the right amount of bleeding and spread. The unique four-in-one design allows you to create a variety of line styles from just one marker by increasing or decreasing the pressure, or simply turning the marker one way or another. Low odor.
Artists' quality art markers for every level of expertise
Advanced ink formulations provide rich color saturation with smooth, silky ink flow and coverage
Impressive color laydown
Different line widths available with each double ended art marker
Alcohol, dye-based ink
Single ink reservoir for a perfect color match end to end
Ideal for both technical and artistic applications
AP Non Toxic
This set includes 12 markers, including Warm Grey 10%, 20%, 30%, 40%, 50%, 60%, 70%, 80%, 90%, and 3 Blacks.
Prismacolor Art Marker Set of 12

Green art supply product
Drop Ship - Item is shipped from manufacturer
Oversized - Additional shipping may apply
Item Ships via Truck - Additional shipping will apply
*Free Shipping Offer valid for single package non-oversized shipments over $100.00 (after all applicable coupons have been applied) and under 20 lbs. within the 48 contiguous United States only. All other areas must pay shipping and handling charges. Exclusions apply. Orders for stretcher bars, cradled wood panels, stretched canvas, flammable items, closeout or discontinued merchandise cannot qualify for our free shipping promotion. We reserve the right to ship via the carrier of our choice.

Copyright © 1997 - 2023 by Rex Art Co. All rights reserved. Prices shown are in U.S. Dollars. Prices are subject to change.