Art Supplies »
Robert Simmons Signet Brushes - Long Handle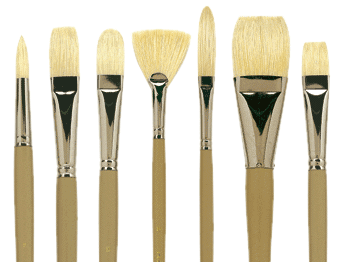 This classic Robert Simmons brush is made of the finest quality Chungking bristles. Resilient natural flags hold and spread the maximum amount of color. Signet features interlocked construction so that each bristle curves inward resulting in a brush that gives a completely controlled stroke and retains its shape under all conditions of painting over years of rigorous use.
Write a review of this product
rating
title
date
name
city state/province country

bravo (5/5)
Jul 8, 2011
pat haselhorst
jefferson city mo US
I have just started art lessons. I have found the length and weight and balance of your brushes fit me quite well.

I am looking for a large storage container for my brushes. I have acquired quite a few. The longest brush is 18" long.

Please send a catalog of your supplies.
The pictures below are offered as shape references. They are not actual size.