Art Supplies »
Robert Simmons Sapphire Brushes - Short Handle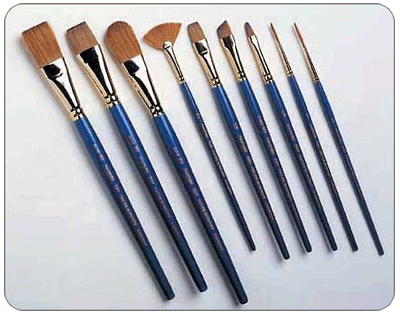 The new Sapphire has been designed for artists working in all mediums who love the pointing, color holding, spring and smooth application of natural sable, but equally demand the durability and value for money associated with synthetic brushes.
Sapphire handles are made of kiln-dried beech wood, forested in Maine, and multi-coated in high gloss lacquer to create an attractive and long-lasting finish. A unique blend of the finest red Kolinsky hair and synthetic filaments in the Sapphire delivers the ultimate painting experience.
Robert Simmons brushes are 40% Off at Rex!
Write a review of this product
rating
title
date
name
city state/province country

Great Brushes (5/5)
Apr 17, 2008
Ken Powers
Tacoma Wa US
These brushes perform better than my Blick Master Kolinsky Sable flats. They maintain a chiseled edge even when just damp, hold a lot of water and paint, and have great snap and resilience. The ferrule doesn't seem to oxidize like the Blick nickel ferrules and overall construction seems to be first rate. The only thing I don't like is the fact that the brush's bar code is printed right on the handle. A little cheesy considering how fantastic the brushes are. A great value and definitely a professional brush.

ROBERT SIMMONS SAPHIRES BRUSHES (5/5)
Aug 7, 2007
SONIA
FLORIDA BU AR
THE BEST BRUSHES EVER USED !
The pictures below are offered as shape references. They are not actual size.