Art Supplies »
Silver Brush Sterling Studio Short Handled Brushes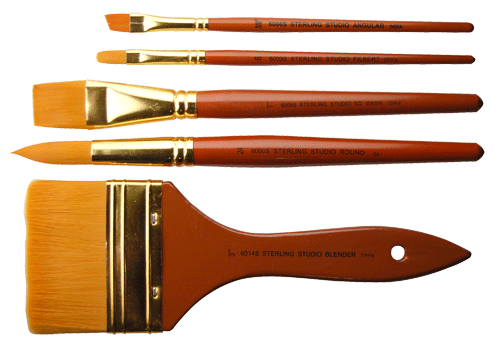 Soft white synthetic brushes manufactured with three different diameter selected and blended tapered white taklon filaments to hold sharp flat edges and fine round needle points.
The spring and color capacity duplicates the finest natural hair, at a fraction of the price. These multi-purpose brushes are suitable for water base media including acrylics, watercolor, gouache, inks, dyes & tempera.
Extraordinary value Golden Taklon brushes in a quality series
Multi-diameter taklon to enhance color carrying capacity
Ideal for crafters and decorative painters working in acrylics
Carefully balanced hardwood handles, lacquered in gloss caramel for comfortable working
Series 6014S ferrules made of stainless steel, flat hardwood handles, lacquered in gloss caramel
Write a review of this product
rating
title
date
name
city state/province country

Great Brush for Photo Alt Processes (5/5)
Feb 28, 2014
Bill Barber
Corpus Christi TX US
I use this brush for coating paper with a variety of alternative photographic prossess. It coats evenly and allows for visiable brush strokes if I want them. When properly cleaned after each use it will last forever. It is the only specific product I had my college students purchase for an alt process class. They were happy with the results produced as was I. Good product at a good price!

24 Round Review (5/5)
Dec 28, 2013
Tim Strobel
Everett PA US
I can only speak for the No. 24 round. Its the only one I own, but it has been a work horse for me. I use it like a mop brush, holds a gallon of water and still comes to a nice fine point. How can brush hair be so soft yet firm and springy is beyond me. Great brush, my work horse for large washes and wetting paper.
My only complaint is the handle paint is cheap and not a nice color.
I would imagine these would be great brushes for someone's travel kit.
Pros: Great value. Does a great job
Cons: Ugly brush :p
The pictures below are offered as shape references. They are not actual size.