drawingmain.html/pencils.html/mechanical_pencils.html
Sakura Sumo-Grip Pencils
Sakura Sumo-Grip Pencils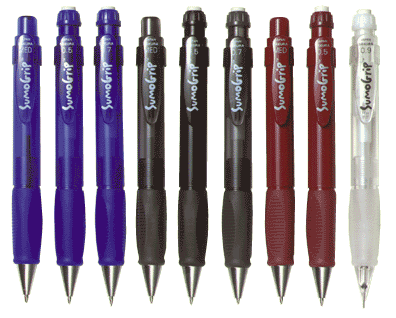 Writing with Sakura's new Sumo Grip ergonomic pens and pencils is so effortless that even doctors can get a grip on their penmanship. The triangular, cushion grip is so comfortable to the hand that even the last prescription or memo of the day is legible. Students appreciate the oversized barrel that alleviates cramping over long term papers or class notes. Business people won't sweat the small stuff. Sumo Grip's rubberized grip provides ultimate comfort.
Physical therapists recommend them to carpal tunnel patients and young children with fine motor skill difficulty.
Being in control is also beautiful. Sumo Grip pens and pencils are stylishly designed in business black, deep purple, smoke black, and wine red. A special kid sized 0.9 mm lead automatic pencil is also available in a clear barrel.
Sumo Grip pencils feature a jumbo twist eraser that lasts six times longer than most mechanical pencil erasers. The automatic pencils come in three different lead sizes that can be refilled (0.5, 0.7 or 0.9).
Applications:
Drawing
Sketching
Drafting
Accounting
Note taking
Teach children to write
Technical Qualities:
Three lead point sizes: .5, .7, .9 mm
Jumbo twist eraser
Refill eraser available
Sumo grip
Strong pocket clip