Glaze, the first pen of its kind offering raised lines and glossy lettering. Embossed lettering used to require heat, powders or professional printing, but now it's available at your fingertips. It's so simple... just slowly write your design or words and let dry.
Whereas most inks slide and run off smooth surfaces, Glaze clings to most non-porous materials.
Want to write or decorate on a CD? Glaze works great. While Glaze requires a longer drying time than most pens, it works well for the patient crafter on non-porous surfaces like iridescent Mylar®.
Wedding invitations, gift cards, handmade stationery, altered books – besides providing tactile sensation, Glaze's texture gives your projects emotional depth as well. True writing you can feel!
Write or draw with Clear Glaze – then reveal birthday wishes or other secret messages by sponging color over the surface. Water-resistant Glaze acts like a "resist" to create the look of batik. Let your creativity and imagination discover the many dimensions of Glaze.
Glaze colors come out bright, glossy and iridescent and will brighten up any craft, rubberstamping or papercraft project. These are just a few of the possibilities for the use of Glaze.
APPLICATIONS
Ceramic and glass accents
Rubberstamping flourishes
Sticker embellishments
Wedding invitations
Card making and bookmark texture
Write or draw on most CDs
Batik effects
Anywhere 3-D texture is desired
TECHNICAL QUALITIES
Transparent pigmented ink 0.8mm ball producing a 0.70mm bold line width
Water resistant
Dries to a glossy – glaze look
Performs best on non-porous matte surfaces
45-60 second drying time
Does not bleed-through most papers and vellum
Meets ASTM and ACMI non-toxicity standards (AP seal)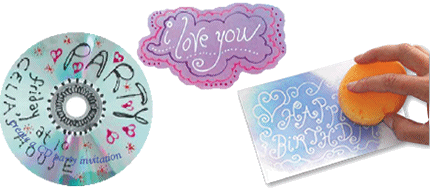 The pictures below are offered as shape references. They are not actual size.