Home » Iwata High Performance Plus Series Airbrushes » Iwata HP Plus Airbrush - Model C Plus - Size: 0.3-mm
Iwata HP Plus Airbrush - Model C Plus - Size: 0.3-mm
SKU: MDAH4001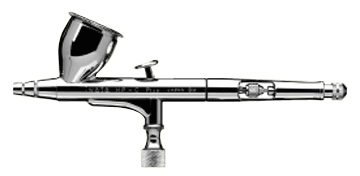 Renowned as the professional's workhorse, this popular High Performance Series brush has been pumped up with inspired new features that include dual-purpose, cutaway ands pre-set handle for easy clean up and precise control of paint flow; PTFE needle packing for automotive or other solvent-based paints; larger threads on the nozzle that offer a more secure fit and better centering of the nozzle; redesigned tapered gravity-feed cups that ensure easy clean up and more efficient paint flow; and a single-piece auxiliary lever/needle-chucking guide that provides easy assembly.
The HP-C Plus is a practical choice for most airbrush uses. Its larger 1/3 oz. (9ml) gravity feed cup and larger (0.3mm) needle/nozzle configuration allow for use with most media. This airbrush does it all – from fine hair lines to finely atomized background spray, along with an entire range of stippling effects. The gravity feed cup is useful for mixing custom colors and allows quick color changes. The short paint passageway from the cup to the front of the airbrush gives the HP-C Plus a responsive feel and allows it to be one of the quickest cleaning airbrushes in the industry.
Specifications:
1/3 oz. (9 ml) Gravity-Feed Cup
0.3-mm Screw-In Nozzle
Dual-Action Trigger
Hairline to 1 in. (25-mm) Round Spray Pattern
Features:
Replaceable PTFE Needle Packing
Pre-Set Cut-Away Handle
Adjustable Main Lever Tension

Click here to download the Performance Plus Series parts guide in pdf format.