acrylicmain.html/acrylicpaints.html
Maimeri Polycolor Acrylics
Maimeri Polycolor Acrylics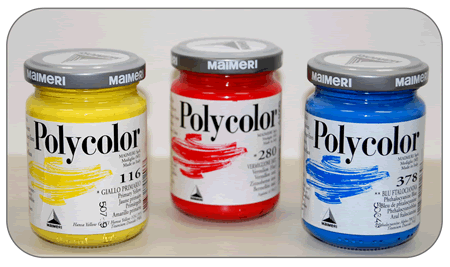 Painting creativity, both strictly artistic and decorative, is expressed in many ways: not only in the traditional manner, but also in other types of applications, such as outdoor murals and advertising billboards. Polycolor colors are designed to be the ideal medium for different uses and techniques.
Polycolor features colors produced with highly lightfast pigments, suspended in an acrylic emulsion, with such strong adhesion to the painting surface that they create a resistant and flexible coat. The pigment content of each color is very high, guaranteeing a richness that enables a 140ml (4.73oz) jar to cover a 3 sq. m. (9 sq. ft.) surface.
Each shade can be painted over or mixed with any other in the range. Polycolor Acrylic colors can be thinned with water and after drying, become waterproof and fadeproof. They lend themselves remarkably well to painting outdoor surfaces. They have a matte look and their finish is smooth, uniform and velvety.
Featured Customer - Christine Lyall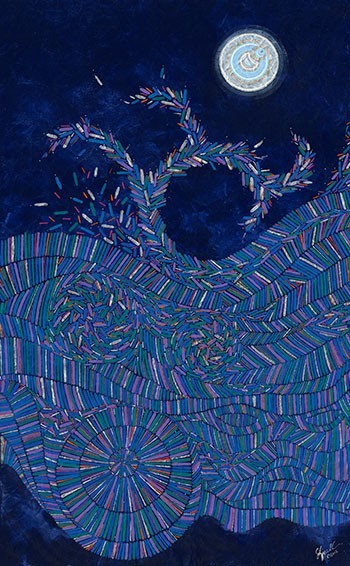 "I absolutely LOVE Maimeri's Polycolor paints. I love that they dry very quickly and they dry very 'flat' and matte yet saturated with color and pigment. Iíve typically used gouache to create my paintings, but just like other watercolors, gouache can mix with and reactivate other colors on the paper or canvas -- even if the other colors have dried -- and although this can sometimes work to oneís advantage, it's not always the effect that I want. Sometimes I want very clean and distinct lines and layers that I can apply quickly, and the Maimeri Polycolor paints allow me to get the results that I want without having to wait too long for each color or layer to dry. The Maimeri Polycolor paints are also very affordable (you get a LOT for your money), making them more economical for large-scale paintings. Last -- but certainly not least -- Rex Art's service was awesome. The turn-around on my order was quick, and because I ordered a rather high volume of paints all at once, they gave me a nice discount. Thank you, Rex Art!"
- Christine Lyall, Artist, Miami, FL
Title: "Go with the Flow"
Materials: Maimeri Polycolor paints on acid-free, kraft paper
Dimensions: Approx. 24" x 36" inches