acrylicmain.html/acrylicpaints.html
GOLDEN Interference and Metallic Acrylic Colors
GOLDEN Interference and Metallic Acrylic Colors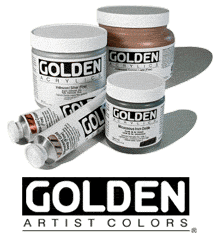 Iridescents are most familiar for their luster quality. All GOLDEN Iridescent Acrylic Paint Colors produce a luster quality by themselves, with other colors, or mixed with mediums. The GOLDEN line of Interference and Metallic acrylic paints can be separated into 3 groups based on chemical composition.
Group I: All Interference Colors, Iridescent Pearl and Silver are in the first group. These colors are derived from mica platelets (the mica consists of an aluminum silicate, which has a crystalline structure that permits easy cleavage into very thin platelets). They are then coated with an extremely thin layer of titanium dioxide. Refraction (the change in direction of a light ray passing from one medium to another of different density) and reflection of light at the titanium dioxide layers, produce various colors and pearlescent effects.
Group II: Iridescent Gold, Copper and Copper Light make up the second group. These colors are derived from mica platelets, but an iron oxide coating is present either in place of, or in combination with, a titanium dioxide coating. The iron oxide coating results in pigments which possess hues as well as pearlescent qualities.
Group III: A third group consists of reflective colorants. Highly reflective metallic pigments include:
Stainless Steel (Coarse & Fine)
Micaceous Iron Oxide: an oxidized form of iron, that is reflective as a result of the lamellar particle shape
Mica Flakes: naturally-occurring mica particles mined from veins in the earth, in which the color is determined by mineral differences only nature can control.
Please note: The colors below are electronic approximations of the actual colors and may not match exactly. Please use for reference only.
Please note that there are certain colors and sizes from Golden that we do not stock, but can be special ordered. There is no additional charge for this service. The time frame is generally 2-3 weeks to acquire special orders. If you are looking for a color or size you need please contact us for more information.